Unbox the Treasures of the Harry Ransom Center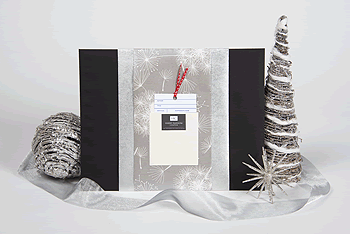 Give a gift membership to the Ransom Center this holiday season and share a year of literature, art, performing arts, film, and photography.
The gift membership will be festively packaged and adorned with a library check-out card. It includes a complimentary copy of From Gutenberg to Gone With The Wind: Treasures from the Ransom Center.
The gift membership includes a year of benefits, including:
• Personalized membership card
• Invitations to exclusive membership events, including: exhibition openings, new member celebrations, and more
• Subscription to our biannual print newsletter, Ransom Edition
• Subscription to our monthly electronic newsletter, eNews
• Recognition of support on Members page of the Ransom Center website
Gift memberships are no longer available for purchase online. Gift memberships can be purchased at the Harry Ransom Center's visitor desk through December 23 during gallery hours.