SIGNATURES
Identified individuals are represented by a biographical sketch, a list of connections to other signatures, and, in most cases, an artifact from the Ransom Centers collections. Help us identify more signatures by submitting your suggested identification.
THE DOOR
Location on door: front, panel 2
Well-known in the early twentieth century for penning traditional poetry in a predominantly experimental period, the poet and lawyer Arthur Davison Ficke (1883-1945) is perhaps best remembered for his personal antics. Ficke was born to a very wealthy Iowa family that encouraged his literary proclivities from a young age. After attending Harvard and obtaining his law degree from the University of Iowa, where he also taught in the English department, he returned to his hometown of Davenport to practice law with his father's firm. Upon marrying Evelyn Blunt in 1907, Ficke's time was split between his legal practice and upper-class social circle in Iowa and his long escapes to Chicago, where he enjoyed the bohemian lifestyle and literary scene. In 1912 he began a correspondence and lifelong friendship with the poet Edna St. Vincent Millay after he and his Harvard friend Witter Bynner were moved by her poem "Renascence." The Davenport years also saw Ficke's participation in one of the most successful literary hoaxes of the century. As an outlet for their frustration with experimental modernist poetry, which they saw as glorifying pretentious theories at the expense of aesthetic considerations, Ficke and Bynner founded the Spectric school of modernist poetry to mock movements like the Imagist school. Spectric poems enjoyed widespread critical attention, appearing in journals and anthologies from Others to The Young Idea. Ficke's satirical work both influenced his serious poetry and overshadowed it; today his reputation rests largely on the success of the hoax, which began to unravel by 1917. That year Ficke volunteered to join the military, influenced by his patriotic father-in-law. He finally met Edna St. Vincent Millay in person in 1918, enjoying a brief love affair with her on his way to France, where he served as a captain and later a lieutenant colonel and judge advocate. There he met the painter and ambulance driver Gladys Brown, whom he would marry in 1923, divorcing his first wife upon his return home in 1922. He left his law practice and Davenport and devoted the rest of his life to poetry, dividing his time between estates in New York and Santa Fe.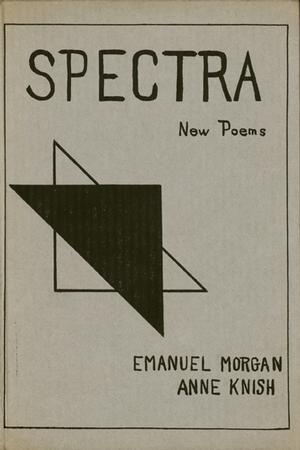 View page turner

X

Creator: Knish, Anne, 1883-1945 (Pseudonym of Arthur Davidson Ficke)

Morgan, Emanuel, 1883-1945 (Pseudonym of Witter Bynner)

Title: Spectra: New Poems


Description: Front cover, bookplate of Witter Bynner, inscription by Ficke, and opening pages

Imprint: New York: Mitchell Kennerly, 1916

Item Date: 1916

Material Type: Monographs

ADA Caption: Spectra

Curatorial Department: Book Collection

Collection Name: Edgar Lee Masters Collection

Stack Location: PS 3511 I15 S7 1916 MAS

Copyright Notices: Some of the documents shown here are subject to U. S. copyright law. It is the user's sole responsibility to contact the copyright holder and secure any necessary copyright permission to publish documents, texts, and images from any holders of rights in these materials. As the owner of the physical object (not the underlying copyright), the Ransom Center requires that you also contact us if you wish to reproduce an image shown here in a print publication or electronically.

Every effort has been made to trace copyright ownership and to obtain permission for reproduction. If you believe you are the copyright owner of an item on this site, and we have not requested your permission, please contact us.

X
The front cover and opening pages of Witter Bynner's copy of Emanuel Morgan and Anne Knish's Spectra: New Poems (New York: Mitchell Kennerly, 1916)
Ficke and his friend published this spoof poetry collection under the pen names Emanuel Morgan (Bynner) and Anne Knish (Ficke), complete with a lofty introduction expounding their principles and methods. This special copy from Ficke to Bynner contains a tongue-in-cheek inscription: "Inscribed by Anne Knish, Deceased, by her Literary Executor, Arthur Davison Ficke, 1939."