SIGNATURES
Identified individuals are represented by a biographical sketch, a list of connections to other signatures, and, in most cases, an artifact from the Ransom Centers collections. Help us identify more signatures by submitting your suggested identification.
THE DOOR

Location on door: back, panel 5
Walter Vodges (1894?-1935) worked as a journalist for newspapers in San Francisco and Philadelphia before settling in New York in 1922. In 1917, he published a profile of Charlie Chaplin for the Los Angeles Times, which also included an interview with Chaplin by Vodges (also sometimes spelled "Vogdes"). He also contributed articles and reviews to The Bookman and other periodicals, including American Magazine and The Nation. Vodges's 1929 novel, A Great Man, takes place in San Francisco during the California gold rush. In 1935, a few months before his death, Vodges left his job as an associate editor for the Hearst Corporation's King Features Syndicate to be the editor of True Detective Stories magazine, a division of the Macfadden Publications' "True Stories" series. Vodges often wrote for Macfadden magazines under the pen names Nigel Trast and Hubert Dale.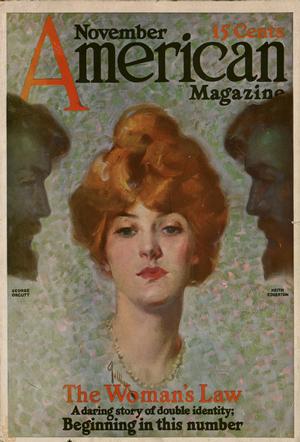 View slide show

X

Creator: Vodges, Walter

Title: "Horace Traubel" in American Magazine

Description: Cover, table of contents, and article

Imprint: (November 1913)

Item Date: 1913

Material Type: Periodical

Curatorial Department: Book Collection

Collection Name: Rare Books Collection

Stack Location: q PS 3089 T7 Z85 1913

Copyright Notices: Some of the documents shown here are subject to U. S. copyright law. It is the user's sole responsibility to contact the copyright holder and secure any necessary copyright permission to publish documents, texts, and images from any holders of rights in these materials. As the owner of the physical object (not the underlying copyright), the Ransom Center requires that you also contact us if you wish to reproduce an image shown here in a print publication or electronically.

Every effort has been made to trace copyright ownership and to obtain permission for reproduction. If you believe you are the copyright owner of an item on this site, and we have not requested your permission, please contact us.

X
Walter Vodges's "Horace Traubel" in American Magazine (November 1913)
Horace Traubel's monumental nine-volume biography, With Walt Whitman in Camden, was published over the course of nine years (1906-1914) and was based upon his daily interviews with the poet in the last years of Whitman's life. Whitman was a favorite writer of many of the visitors to Frank Shay's bookshop; Shay himself wrote and published the first book-length bibliography of his works in 1920.