CONNECTIONS
Each signature may be linked to the others by up to 53 thematic connections. Some are common to many signatures; others highlight unusual, yet notable, associations and interests. Friendships are not represented because so many signers were friends. Go to "The Bohemians" to view and interact with all 53 connections.
THE DOOR
About a dozen signatures on the bookshop door represent cartoonists, many of whom made a name for themselves publishing their work in New York newspapers and magazines like the New York Herald, New York World, New Yorker, and Masses. Some, such as C. A. Voight and Gene Carr, created comic strips that ran weekly in Sunday newspaper editions. Other cartoonists, notably C. R. Macauley and Orson Lowell, drew editorial cartoons that satirized various aspects of contemporary life, from presidential politics to local Greenwich Village personalities.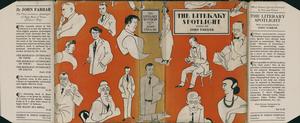 View larger image

X

Creator: Farrar, John Chipman, 1896-1974

Gropper, William, 1897-1975 (illustrator)

Title: Dust jacket from The Literary Spotlight


Imprint: New York: George H. Duran, 1924

Item Date: 1924

Material Type: Monographs

ADA Caption: Dust jacket from The Literary Spotlight

Curatorial Department: Book Collection

Collection Name: Rare Books Collection

Stack Location: 928.1 F244l

Copyright Notices: Some of the documents shown here are subject to U. S. copyright law. It is the user's sole responsibility to contact the copyright holder and secure any necessary copyright permission to publish documents, texts, and images from any holders of rights in these materials. As the owner of the physical object (not the underlying copyright), the Ransom Center requires that you also contact us if you wish to reproduce an image shown here in a print publication or electronically.

Every effort has been made to trace copyright ownership and to obtain permission for reproduction. If you believe you are the copyright owner of an item on this site, and we have not requested your permission, please contact us.

X
William Gropper's dust jacket for John Farrar's The Literary Spotlight (New York: George H. Duran, 1924)
The writers represented on the cover are: Top: Don Marquis, F. Scott Fitzgerald, Heywood Broun, Edna Ferber, Henry Seidel Canby; Middle: Amy Lowell Sherwood Anderson, James Branch Cabell; Bottom: Booth Tarkington, Mary Austin, Sinclair Lewis, William Rose Benét, John Farrar, Fannie Hurst.