SIGNATURES
Identified individuals are represented by a biographical sketch, a list of connections to other signatures, and, in most cases, an artifact from the Ransom Centers collections. Help us identify more signatures by submitting your suggested identification.
THE DOOR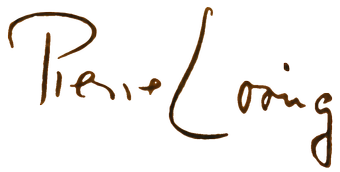 Location on door: front, panel 3
During his career as a journalist, writer, and translator, [Edward] Pierre Loving (1893-1950) wrote for The Nation, worked on the Paris staff of the New York Herald, and acted as a correspondent for the International News Service. In the 1910s and early 1920s, Loving was active in New York's little theater scene. He wrote plays, acted in a number of Provincetown Players productions, including Susan Glaspell's The People, and co-edited with bookshop owner Frank Shay the collection Fifty Contemporary One-Act Plays (1920). Loving's numerous published volumes include The Gardener of Evil (1931), a novelized portrait of Baudelaire, as well as translations of works by Pierre Louÿs, Friedrich Hölderin, and Arthur Schnitzler.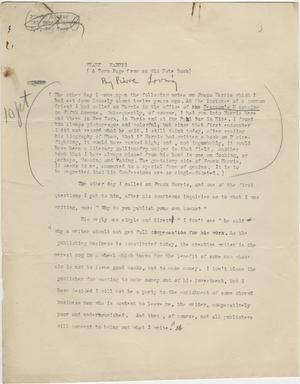 View slide show

X

Creator: Loving, Pierre, 1893-1950

Title: "Frank Harris (A Torn Page from an Old Note Book)"

Description: Typed manuscript with holograph emendations

Item Date: Undated

Material Type: Manuscript

ADA Caption: "Frank Harris (A Torn Page from an Old Note Book)"

Curatorial Department: Manuscripts Collection

Collection Name: Contempo (Chapel Hill, N.C.) Collection

Stack Location: Miscellaneous: Loving, Pierre

Copyright Notices: Some of the documents shown here are subject to U. S. copyright law. It is the user's sole responsibility to contact the copyright holder and secure any necessary copyright permission to publish documents, texts, and images from any holders of rights in these materials. As the owner of the physical object (not the underlying copyright), the Ransom Center requires that you also contact us if you wish to reproduce an image shown here in a print publication or electronically.

Every effort has been made to trace copyright ownership and to obtain permission for reproduction. If you believe you are the copyright owner of an item on this site, and we have not requested your permission, please contact us.

X
An annotated typescript of Pierre Loving's "Frank Harris (A Torn Page from an Old Note Book)," undated
In this reminiscence, Loving and Harris discuss boxing, literature, and Harris's bout with Belgian writer Maurice Maeterlinck. Interestingly, Loving is also reputed to be the source of the first published report about the now infamous boxing match between Ernest Hemingway and fellow writer Morley Callaghan. Hemingway blamed Loving for spreading an erroneous version of the story wherein Callaghan knocked the novelist out.