SIGNATURES
Identified individuals are represented by a biographical sketch, a list of connections to other signatures, and, in most cases, an artifact from the Ransom Centers collections. Help us identify more signatures by submitting your suggested identification.
THE DOOR
Location on door: front, panel 2
The social-realist artist William Gropper (1897-1977) was born to impoverished Jewish immigrant parents on the Lower East Side of Manhattan. He received his early art education at the leftist Ferrer School, and many of his teachers were involved in the 1913 Armory Show, an event that likely helped shape the young Gropper's perspective. He trained at the New York School of Fine and Applied Arts (now the Parsons School of Design), and by the late 1910s, he was producing cartoons, caricatures, and illustrations for leftist and literary publications. Many of these were little magazines published in Greenwich Village, such as the Masses, Liberator, Dial, Greenwich Village Quill, and Pagan. For a time he produced work for the New York Tribune, but was fired when they learned of his leftist work; mainstream venues such as the Bookman, however, sought his contributions actively. From the 1920s on, Gropper was known well for his paintings documenting the proletarian struggle. In 1927, he visited Russia with Theodore Dreiser and Sinclair Lewis on the occasion of the tenth anniversary of the Russian Revolution. The WPA funded him to document the Dust Bowl in the 1930s, and he went on to produce work in response to further world and national events including World War II (?) and the anti-communist scare of the 1950s, in which Gropper himself was a victim of blacklisting.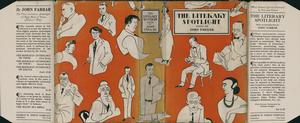 View larger image

X

Creator: Farrar, John Chipman, 1896-1974

Gropper, William, 1897-1975

Title: Dust jacket of The Literary Spotlight

Imprint: New York: George H. Doran, 1924

Item Date: 1924

Material Type: Serials

ADA Caption: Cover of an issue of Pagan

Curatorial Department: Book Collection

Collection Name: Rare Books Collection

Stack Location: PS 221 F3

Copyright Notices: Some of the documents shown here are subject to U. S. copyright law. It is the user's sole responsibility to contact the copyright holder and secure any necessary copyright permission to publish documents, texts, and images from any holders of rights in these materials. As the owner of the physical object (not the underlying copyright), the Ransom Center requires that you also contact us if you wish to reproduce an image shown here in a print publication or electronically.

Every effort has been made to trace copyright ownership and to obtain permission for reproduction. If you believe you are the copyright owner of an item on this site, and we have not requested your permission, please contact us.

X
The dust jacket of John Farrar and William Gropper's The Literary Spotlight (New York: George H. Doran, 1924)
This dust-jacket depicts several literary notables, many of whom signed the bookshop door. Gropper's gently humorous caricatures capture the personalities of, clockwise from the top left: Don Marquis, F. Scott Fitzgerald, Heywood Broun, Edna Ferber, Henry Seidel Canby, James Branch Cabell, Fannie Hurst, John Farrar, William Rose Benét, Sinclair Lewis, Mary Austin, Sherwood Anderson, Booth Tarkington, Amy Lowell. Further character studies in print and image appear in the volume.