SIGNATURES
Identified individuals are represented by a biographical sketch, a list of connections to other signatures, and, in most cases, an artifact from the Ransom Centers collections. Help us identify more signatures by submitting your suggested identification.
THE DOOR

Location on door: front, panel 3
John Sloan (1871-1951) is best known as a member of The Eight, or the Ashcan School, a group of artists who painted genre scenes of the lower classes and city life in New York in the early twentieth century. Sloan's family moved from Lock Haven, Pennsylvania to Philadelphia when Sloan was a child. After dropping out of high school to support his family, he worked as a shop clerk, a freelance artist, and a newspaper illustrator. In 1904, encouraged by his mentor, the painter Robert Henri, Sloan moved to New York. There he garnered critical success for his paintings, many of which depict everyday life in Greenwich Village. Sloan joined the Socialist Party in 1910 and was the art editor of The Masses from 1912 to 1914. In 1916 he began teaching at the Art Students League and remained in that position for 22 years.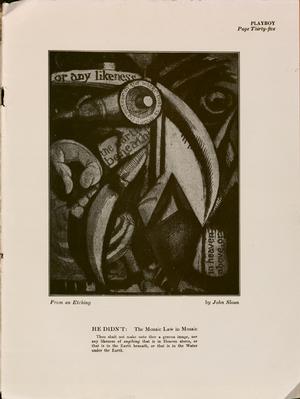 View larger image

X

Creator: Sloan, John

Title: "From an Etching by John Sloan, He Didn't: The Mozaic Law in Mosaic" in Playboy

Imprint: No. 2 (1919): 35

Item Date: 1919

Material Type: Serials

ADA Caption: "From an Etching by John Sloan, He Didn't: The Mozaic Law in Mosaic" in Playboy

Curatorial Department: Book Collection

Collection Name: Rare Books Collection

Stack Location: q N 1 P5 no. 2 (1919)

Copyright Notices: Some of the documents shown here are subject to U. S. copyright law. It is the user's sole responsibility to contact the copyright holder and secure any necessary copyright permission to publish documents, texts, and images from any holders of rights in these materials. As the owner of the physical object (not the underlying copyright), the Ransom Center requires that you also contact us if you wish to reproduce an image shown here in a print publication or electronically.

Every effort has been made to trace copyright ownership and to obtain permission for reproduction. If you believe you are the copyright owner of an item on this site, and we have not requested your permission, please contact us.

X
"From an Etching by John Sloan, He Didn't: The Mozaic Law in Mosaic" in Playboy, No. 2 (1919)
This item in the Village art periodical Playboy represents a departure from the naturalism that is typical of Sloan's artwork. Unlike many of his American artist colleagues, Sloan responded positively to the new styles of modernist painting that were exhibited in the United States in the early twentieth century, most notably in the Armory Show of 1913. Here Sloan seems to be experimenting with an abstract Cubist or Futurist style.