SIGNATURES
Identified individuals are represented by a biographical sketch, a list of connections to other signatures, and, in most cases, an artifact from the Ransom Centers collections. Help us identify more signatures by submitting your suggested identification.
THE DOOR

Location on door: front, panel 1
The prolific leftist novelist Upton Beall Sinclair Jr. (1875-1968) was born in Baltimore and moved to New York around the age of ten. Educated at the City College of New York and Columbia University, he began his writing career penning boys' adventure stories for pulp magazines. After having several novels published, he emerged into sudden fame in 1906 with The Jungle, a novel whose portrayal of conditions in the meatpacking industry was so damning that it influenced legislation. That same year, he used his Jungle royalties to found a socialist commune, Helicon Hall, where Sinclair Lewis resided for a time, but the experiment ended when a major fire destroyed much of the site in 1907. In the years that followed he published further "muckraking" novels that sought to expose hypocrisy and corruption across American culture and industry. He came to know many Village socialists and contributed work to the Masses. In 1917, concerned about the direction of the publishing economy, Sinclair began self-publishing editions of his works, though his major works were simultaneously being published by New York publishing houses. Along with novels, he wrote and published several non-fiction pamphlets and plays during these years. After moving to Southern California in the early 1920s, he won the Democratic nomination for Governor but lost the race. He became involved in the film industry, producing documentaries with Sergei Eisenstein, and continued to write novels until the end of his long life.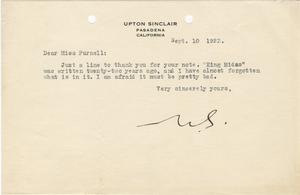 View slide show

X

Creator: Sinclair, Upton, 1878-1968

Title: Four letters to Idella Purnell Stone

Item Date: 14 August 1923; 10 September 1923; 20 February 1924; 5 June 1924

Material Type: Manuscript

ADA Caption: Four letters to Idella Purnell Stone

Curatorial Department: Manuscripts Collection

Collection Name: Idella Purnell Stone Personal Papers and Records of Palms Magazine

Stack Location: Box 5, Folder 7

Copyright Notices: Some of the documents shown here are subject to U. S. copyright law. It is the user's sole responsibility to contact the copyright holder and secure any necessary copyright permission to publish documents, texts, and images from any holders of rights in these materials. As the owner of the physical object (not the underlying copyright), the Ransom Center requires that you also contact us if you wish to reproduce an image shown here in a print publication or electronically.

Every effort has been made to trace copyright ownership and to obtain permission for reproduction. If you believe you are the copyright owner of an item on this site, and we have not requested your permission, please contact us.

X
Four letters from Upton Sinclair to Ida Purnell Stone, 1923-1924
These letters concern Stone's intended translation of Sinclair's play Hell into Spanish and the possibility of producing the play in Mexico.