SIGNATURES
Identified individuals are represented by a biographical sketch, a list of connections to other signatures, and, in most cases, an artifact from the Ransom Centers collections. Help us identify more signatures by submitting your suggested identification.
THE DOOR

Location on door: front, panel 1
Playwright Susan Glaspell (1876-1948) is a central figure in modern American theater history. Born in Davenport, Iowa, she began her career, like many writers of the time, working as a journalist in her hometown. By 1901 she was working as a freelance writer and participating actively in Davenport's literary and political circles. Through the socialist Monist Society, she met George Cram Cook, whom she married in 1913. They lived in Greenwich Village and spent their summers in Provincetown, Massachusetts. Glaspell's early published work took the form of short stories and three novels, but in the mid-1910s she and Cook co-wrote a play, Suppressed Desires, which they unsuccessfully proposed to the Washington Square Players. In the summer of 1915, after passionate conversations with friends about the state of American theater, they staged this and two other plays on Mary Heaton Vorse's wharf, and the Provincetown Players was born. Over the next few years Glaspell directed and acted in Provincetown Players productions after the group began its New York productions, while gaining critical acclaim for her own one-act plays, which were distinguished for their formal experimentation and representations of women's liberation from social and psychological oppression. The Players dismantled in 1922, and Glaspell and Cook moved to Greece. After Cook's sudden death in 1924, Glaspell returned to the United States, where she continued to write, winning the 1931 Pulitzer Prize for her play about the life of Emily Dickinson, Alison's House. Today, Glaspell is best known for her one-act play Trifles, which was first produced in 1917 and revived for the 1920-1921 season of the Provincetown Players in Greenwich Village.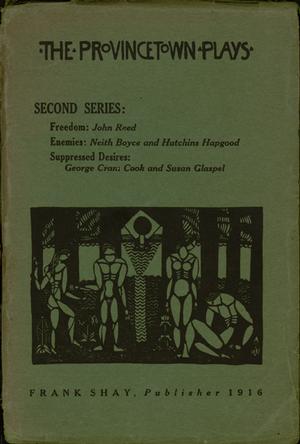 View slide show

X

Description:


Material Type: Photographs

Curatorial Department: Photography Collection

Copyright Notices: Some of the documents shown here are subject to U. S. copyright law. It is the user's sole responsibility to contact the copyright holder and secure any necessary copyright permission to publish documents, texts, and images from any holders of rights in these materials. As the owner of the physical object (not the underlying copyright), the Ransom Center requires that you also contact us if you wish to reproduce an image shown here in a print publication or electronically.

Every effort has been made to trace copyright ownership and to obtain permission for reproduction. If you believe you are the copyright owner of an item on this site, and we have not requested your permission, please contact us.

X
The cover of The Provincetown Plays, Second Series, (New York: Frank Shay, 1916)