SIGNATURES
Identified individuals are represented by a biographical sketch, a list of connections to other signatures, and, in most cases, an artifact from the Ransom Centers collections. Help us identify more signatures by submitting your suggested identification.
THE DOOR
Location on door: front, panel 1
The Jamaican journalist, novelist, and travel writer, W. Adolphe Roberts (1886-1962), began his career in Jamaica and came to the United States in 1904. During World War I, he worked as a war correspondent in France and, in 1916, began an affair with birth-control activist Margaret Sanger. In 1918 he was hired as an editor at Ainslee's, a magazine of popular fiction and poetry, in which he published many of Edna St. Vincent Millay's early poems and stories. Soon after, Frank Shay published two volumes of Millay's verse from the bookshop. Roberts, like many others, fell in love with Millay; he dedicated to her a series of five villanelles in his 1919 volume of verse, Pierrot Wounded. In the early 1920s, he worked at Hearst International Magazine. He published his own first novel in 1927 and went on to write numerous detective novels and books of travel writing, focusing much of his non-fiction work on Caribbean history and culture. He was an important agitator for Jamaica's freedom from British governance, helping to found the pro-independence Jamaican Progressive League in New York in 1936.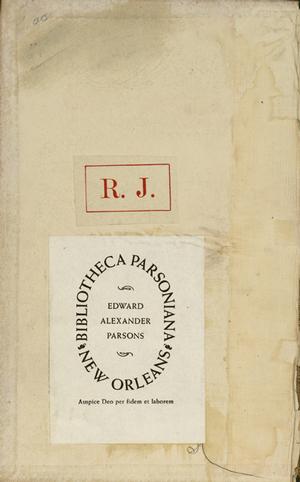 View page turner

X

Creator: Sharpe, Samuel, 1799-1881

Title: The History of Egypt: From the Earliest Times till the Conquest by the Arabs, A. D. 640

Description: Inscribed by W. Adolphe Roberts and Rossiter Johnson with bookplates of Alexander Parsons and Rossiter Johnson

Imprint: London: Moxon, 1846

Item Date: 1846

Material Type: Monographs

ADA Caption: The History of Egypt: From the Earliest Times till the Conquest by the Arabs, A. D. 640

Curatorial Department: Book Collection

Collection Name: Library of Edward Alexander Parsons

Stack Location: DT 83 S54 1846

Copyright Notices: Some of the documents shown here are subject to U. S. copyright law. It is the user's sole responsibility to contact the copyright holder and secure any necessary copyright permission to publish documents, texts, and images from any holders of rights in these materials. As the owner of the physical object (not the underlying copyright), the Ransom Center requires that you also contact us if you wish to reproduce an image shown here in a print publication or electronically.

Every effort has been made to trace copyright ownership and to obtain permission for reproduction. If you believe you are the copyright owner of an item on this site, and we have not requested your permission, please contact us.

X
The preliminary pages of Samuel Sharpe's The History of Egypt: From the Earliest Times till the Conquest by the Arabs, A. D. 640 (London: Moxon, 1846)
Roberts's personal copy of Sharpe's book had been previously owned by Rossiter Johnson, a prolific American editor a generation older than Roberts who gave the book to the New York Authors' Club, a men's club of which he was Chairman of the Council from 1895-1896. The volume was later owned by Edward Alexander Parsons, a New Orleans book collector. Roberts wrote several novels set in New Orleans and presumably visited there often, which may be how his book came to be owned by Parsons, whose large library came to the Ransom Center in 1958.