SIGNATURES
Identified individuals are represented by a biographical sketch, a list of connections to other signatures, and, in most cases, an artifact from the Ransom Centers collections. Help us identify more signatures by submitting your suggested identification.
THE DOOR

Location on door: front, panel 3
According to Guido Bruno, the bookseller and Walt Whitman collector Max Breslow (dates unknown) apprenticed at a bookshop on Eighth Avenue, opened his own shop in a cellar storefront on 23rd Street, and eventually ended up with a shop in the famous "Book Row" on Fourth Avenue called "Books for Bookish People. " Bruno described Breslow as follows in Adventures in American Bookstores (1922): "Little Max Breslow, who isn't taller than a good-sized doll and has such tiny hands that he can hardly hold two books at the same time, is so vivacious and young looking that everybody must like him if for no other reason than his continuous smile." It is possible that Breslow first met fellow bookseller Frank Shay during his time on Eighth Avenue, for there is some evidence that Shay may have spent his early days in a shop on that street.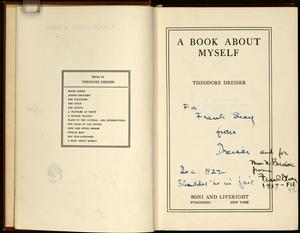 View larger image

X

Creator: Dreiser, Theodore, 1871-1945

Title: A Book About Myself

Description: Inscribed by the author to Frank Shay and by Frank Shay to Max M. Breslow

Imprint: New York: Boni and Liveright, 1922

Item Date: 1927

Material Type: Monographs

ADA Caption: A Book About Myself

Curatorial Department: Book Collection

Collection Name: Rare Books Collection

Stack Location: PS 3507 R55 Z5 1922 Copy 2

Copyright Notices: Some of the documents shown here are subject to U. S. copyright law. It is the user's sole responsibility to contact the copyright holder and secure any necessary copyright permission to publish documents, texts, and images from any holders of rights in these materials. As the owner of the physical object (not the underlying copyright), the Ransom Center requires that you also contact us if you wish to reproduce an image shown here in a print publication or electronically.

Every effort has been made to trace copyright ownership and to obtain permission for reproduction. If you believe you are the copyright owner of an item on this site, and we have not requested your permission, please contact us.

X
The title page of Theodore Dreiser's Book About Myself (New York: Boni and Liveright, 1922), inscribed from the author to Frank Shay and from Frank Shay to Max M. Breslow
This dual-association copy represents a chain of collaborators. Frank Shay was a long-time friend of Theodore Dreiser, and had introduced him to Horace Liveright, who published this and other Dreiser works. Shay and Breslow were linked by their love of Walt Whitman: Shay used Breslow's significant collection of Walt Whitman as the basis for his 1920 bibliography of Whitman's works.