SIGNATURES
Identified individuals are represented by a biographical sketch, a list of connections to other signatures, and, in most cases, an artifact from the Ransom Centers collections. Help us identify more signatures by submitting your suggested identification.
THE DOOR

Location on door: front, panel 3
Born in Brooklyn, Heywood Campbell Broun (1888-1939) was a major left-wing journalist known widely in his day. As a young man, he dropped out of Harvard to begin work at the New York Evening Reporter as a sportswriter in 1910. Soon after, he moved to the New York Tribune where, in 1915, he took over the position of drama critic. In 1917, he married Ruth Hale, a feminist and early female film critic. The pair traveled to Europe during World War I, where Broun served as a war correspondent. In 1919, Broun joined the Algonquin Round Table, where he sharpened his wit against the best in the business; he originated the moniker, "the vicious circle." In 1921, he moved to the New York World. His column there, "It Seems to Me," became the first syndicated column to reach one million readers. His column covered all topics including politics, and he became well known for his writing in defense of underdogs of all sorts, but mostly those fighting for freedom of expression. In 1927, Broun was fired after a disagreement with his editor over his commentary on the sentencing of anarchists Sacco and Vanzetti. He became increasingly invested in political issues from this point on and in 1930, ran a failed campaign for Congress. In 1933, he founded the American Newspaper Guild, a union group that still exists today as the Newspaper Guild. Broun continued to write his famous column, first at the New York World-Telegram, and then at the New York Post, until his death.
X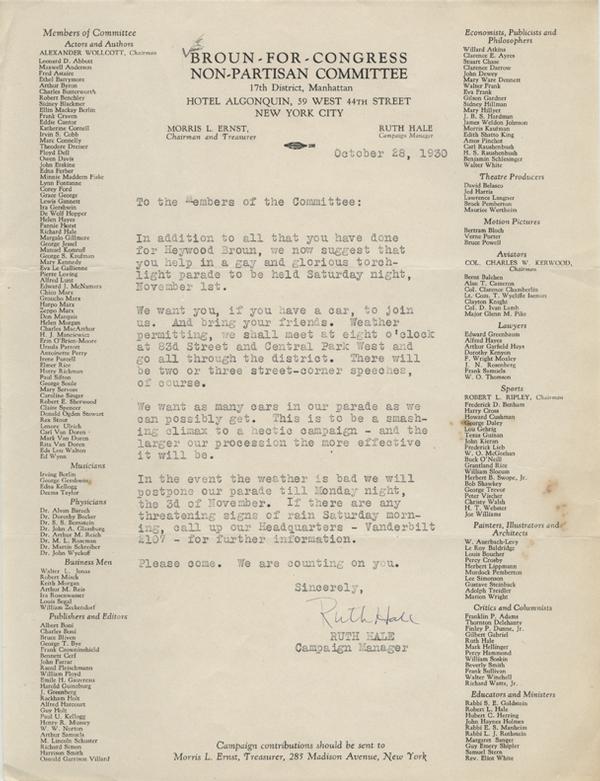 X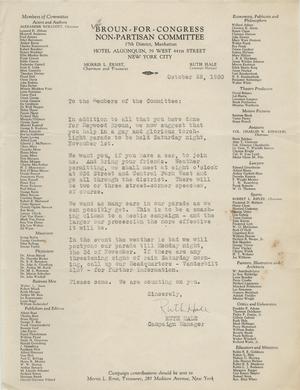 View larger image

X

Creator: Hale, Ruth

Title: Invitation to torchlight parade

Description: Typed with signature

Item Date: 28 October 1930

Material Type: Manuscript

ADA Caption: Invitation to torchlight parade

Curatorial Department: Manuscripts Collection

Collection Name: Fannie Hurst Papers

Stack Location: Box 103, Folder 3

Copyright Notices: Some of the documents shown here are subject to U. S. copyright law. It is the user's sole responsibility to contact the copyright holder and secure any necessary copyright permission to publish documents, texts, and images from any holders of rights in these materials. As the owner of the physical object (not the underlying copyright), the Ransom Center requires that you also contact us if you wish to reproduce an image shown here in a print publication or electronically.

Every effort has been made to trace copyright ownership and to obtain permission for reproduction. If you believe you are the copyright owner of an item on this site, and we have not requested your permission, please contact us.

X
A letter from Ruth Hale to Fannie Hurst, inviting her to a torchlight parade for Heywood Broun, 1930
Broun's wife Ruth Hale was the manager of his 1930 campaign as a Socialist candidate for Congress. The names of supporters on this letterhead reveal the depth of his connections among many powerful people, including eleven people who signed the bookshop door; however, this was not enough for him to win the election. He did not run for office again.