SIGNATURES
Identified individuals are represented by a biographical sketch, a list of connections to other signatures, and, in most cases, an artifact from the Ransom Centers collections. Help us identify more signatures by submitting your suggested identification.
THE DOOR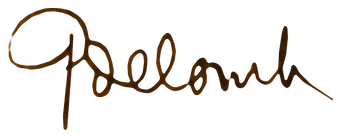 Location on door: front, panel 3
Born in Petrograd, Russia, Joseph Gollomb (1881-1950) made a name for himself in New York literary circles after immigrating with his family at the age of ten. When his father died shortly after their arrival, Gollomb and his siblings were raised by their staunchly socialist mother in the Lower East Side's Jewish tenements. Though financial success as a journalist and author eventually cooled his radical fervor, Gollomb was active in the labor movement in his early years, a member of both the Socialist Party of America and the Industrial Workers of the World. He taught advanced English classes at the socialist Rand School, where he encouraged other Russian Jewish immigrants to document their experiences. Gollomb wrote for several New York publications, including the Evening Post, the Evening World, and the New Yorker, as well as with the foreign bureaus of the Associated and the United Press. His status as an investigative reporter allowed him to interview famous figures from George Bernard Shaw to Anatole France and granted him access to the archives of Scotland Yard and other police departments, secret services, and detective schools across the United States and Europe. These experiences furnished material for Gollomb's dozens of books, which include nonfiction titles like Armies of Spies and Crimes of the Year, detective fiction, young adult novels, and the fictionalized autobiography Unquiet. Several of his books were made into films, and a biographer of Sidney Hillman described Gollomb by the end of his life as "fat and prosperous." Gollomb's niece, the actress Judy Holliday, also met with considerable success in the film industry, though her family's radical ties made her a target of the Senate investigations of suspected Hollywood Communists two years after her uncle's death.
X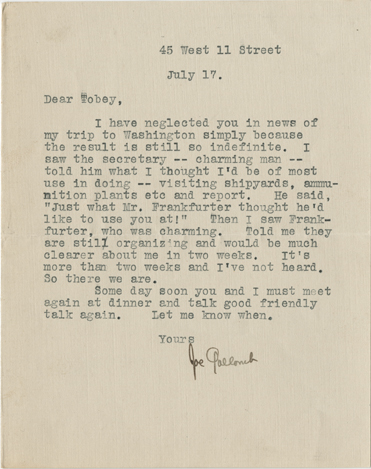 X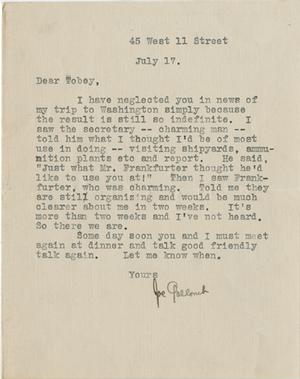 View larger image

X

Creator: Gollomb, Joseph

Title: Letter to Elias Tobenkin

Description: Letter from Joseph Gollomb to Elias Tobenkin, 17 July [Year Unknown]

Item Date: 17 July [Year Unknown]

Material Type: Letter

ADA Caption: Letter to Elias Tobenkin

Curatorial Department: Manuscripts Collection

Collection Name: Elias Tobenkin Collection

Stack Location: Correspondence, 1899-1963, Incoming, G

Copyright Notices: Some of the documents shown here are subject to U. S. copyright law. It is the user's sole responsibility to contact the copyright holder and secure any necessary copyright permission to publish documents, texts, and images from any holders of rights in these materials. As the owner of the physical object (not the underlying copyright), the Ransom Center requires that you also contact us if you wish to reproduce an image shown here in a print publication or electronically.

Every effort has been made to trace copyright ownership and to obtain permission for reproduction. If you believe you are the copyright owner of an item on this site, and we have not requested your permission, please contact us.

X
A Letter from Joseph Gollomb to Elias Tobenkin, July 17 [Year Unknown]
While the context of this letter is unclear, it is the only representative of Joseph Gollomb's correspondence in the Ransom Center. It highlights Gollomb's connections with the most prominent American Jewish figures of his day. The letter refers to Gollomb's meeting with Felix Frankfurter, a politician who served as an adviser to FDR and an Associate Justice of the US Supreme Court, and whose commitment to progressive ideas earned him the nickname "the Red Rasputin."