SIGNATURES
Identified individuals are represented by a biographical sketch, a list of connections to other signatures, and, in most cases, an artifact from the Ransom Centers collections. Help us identify more signatures by submitting your suggested identification.
THE DOOR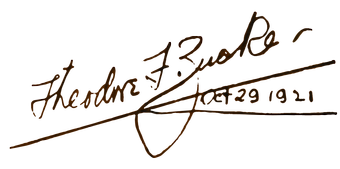 Location on door: front, panel 3
Theodore F. Zucker was a research scientist in the field of pathology who was employed by Columbia University; he is one of a handful of Columbia faculty whose names appear on the door, including Preston Lockwood and Jacob Salwyn Schapiro. Much of Zucker's research involved nutrition, vitamin absorption, and the invention of nutritional supplements. In the early 1960s, he and his research partner Lois Zucker made important discoveries about obesity and genetics. Indeed, their research was so significant that two types of laboratory rats are named after them: the Zucker obese rat and the Zucker lean rat.