SIGNATURES
Identified individuals are represented by a biographical sketch, a list of connections to other signatures, and, in most cases, an artifact from the Ransom Centers collections. Help us identify more signatures by submitting your suggested identification.
THE DOOR

Location on door: front, panel 2
Lingard Loud (b. 1891) was an editor of and contributor to various publications, but today he is best remembered for his acquaintance with Eugene O'Neill and his marriage to Marion Tanner, on whom the character Auntie Mame was based. Loud was a classmate of O'Neill's at Harvard, where the two were in a screenwriting course together. In 1919 Loud, by that time a lieutenant in the Army, completed his commission and began a position at Century magazine as the liaison officer between the editorial and business departments. The following year, two of his short stories, "Mister Jolly Well Murders His Wife" and "Pink Knickers and the Desperate Ship," were published in the Saturday Evening Post. In 1938, Loud edited the first volume of Popular Educator, a periodical designed to provide a self-education in the liberal arts.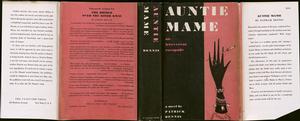 View larger image

X

Creator: Dennis, Patrick, 1921-1976 (pseudonym)

Title: Dustjacket from Auntie Mame: an irreverent escapade

Imprint: New York: Vanguard Press, 1955

Item Date: 1955

Material Type: Monographs

ADA Caption: Dustjacket from Auntie Mame: an irreverent escapade

Curatorial Department: Book Collection

Collection Name: Christopher Morley Collection

Stack Location: PS 3539 A55 A8 MOR

Copyright Notices: Some of the documents shown here are subject to U. S. copyright law. It is the user's sole responsibility to contact the copyright holder and secure any necessary copyright permission to publish documents, texts, and images from any holders of rights in these materials. As the owner of the physical object (not the underlying copyright), the Ransom Center requires that you also contact us if you wish to reproduce an image shown here in a print publication or electronically.

Every effort has been made to trace copyright ownership and to obtain permission for reproduction. If you believe you are the copyright owner of an item on this site, and we have not requested your permission, please contact us.

X
The dust jacket for Patrick Dennis's Auntie Mame: an irreverent escapade (New York: Vanguard Press, 1955)
Lingard Loud and Marion Tanner were married in the mid-1910s and began living in an old brownstone at 72 Bank Street in Greenwich Village in the 1920s. The house became a haven for artists and various transients and Tanner cultivated a reputation as the ultimate Greenwich Village eccentric. Auntie Mame was written under a pseudonym by Edward Everett Tanner III, nephew of Marion Tanner. Though Edward Tanner insisted that Auntie Mame was a purely fictional character, Marion publicly denied her nephew's claim and attracted much attention as "the real Auntie Mame" until her death in 1985.