SIGNATURES
Identified individuals are represented by a biographical sketch, a list of connections to other signatures, and, in most cases, an artifact from the Ransom Centers collections. Help us identify more signatures by submitting your suggested identification.
THE DOOR

Location on door: front, panel 2
Edmund Lester Pearson (1880-1937) was a librarian, columnist, and true crime writer. During the 1920s, Pearson served as publications editor for the New York Public Library and participated in the literary fray by writing columns on books for the Nation, the Dial, and The Saturday Review of Literature. His public reputation, however, stemmed from his sensational true crime studies, including his immensely popular Studies in Murder (1924) with its famous treatment of the Lizzie Borden case. His "Murder in Greenwich Village" from More Studies in Murder (1936) tells of an 1890s case in which Dr. Robert Buchanan was accused of murdering his wife after succumbing to the dissolute ways of the Village.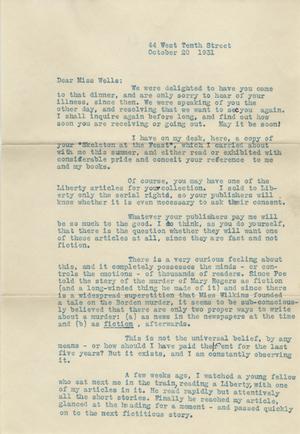 View slide show

X

Creator: Pearson, Edmund Lester, 1880-1937

Title: Letter to Carolyn Wells

Description: With signature and autograph notations

Item Date: 20 October 1931

Material Type: Manuscript

ADA Caption: Letter to Carolyn Wells

Curatorial Department: Manuscripts Collection

Collection Name: Carolyn Wells Collection

Stack Location: Recipient

Copyright Notices: Some of the documents shown here are subject to U. S. copyright law. It is the user's sole responsibility to contact the copyright holder and secure any necessary copyright permission to publish documents, texts, and images from any holders of rights in these materials. As the owner of the physical object (not the underlying copyright), the Ransom Center requires that you also contact us if you wish to reproduce an image shown here in a print publication or electronically.

Every effort has been made to trace copyright ownership and to obtain permission for reproduction. If you believe you are the copyright owner of an item on this site, and we have not requested your permission, please contact us.

X
A letter from Edmund Lester Pearson to Carolyn Wells, 20 October 1931
In this letter to Wells, a popular and prolific writer of light verse and mysteries, Pearson discusses his approach to writing true crime. He explains that to bring this genre to prominence he has had to overcome some readers' mystification that older murders might be written about as fact rather than fiction.