SIGNATURES
Identified individuals are represented by a biographical sketch, a list of connections to other signatures, and, in most cases, an artifact from the Ransom Centers collections. Help us identify more signatures by submitting your suggested identification.
THE DOOR

Location on door: back, panel 5
Artist Ivan Opffer (1897-1980) is remembered for his portraits of writers and other notable figures. Born in Denmark, Opffer moved with his family first to Mexico and then New York. His brother Emil, a merchant seaman, was the romantic muse of Hart Crane's poetic sequence Voyages. Together with artist William Saphier, Ivan Opffer contributed caricatures of literati to Witter Bynner's Pins for Wings (1920), which was published by another New York City bookshop, The Sunwise Turn. He also published his caricatures in the Dial, Bookman, and other periodicals. In the early twenties, Opffer left the United States for Paris where he continued to produce portraits.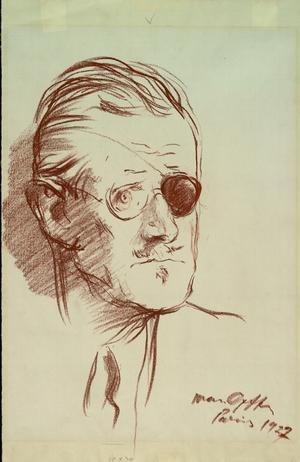 View larger image

X

Creator: Opffer, Ivan, 1897-1980

Title: Portrait of James Joyce

Description: Signed by the artist

Item Date: 192[7]

Medium: Crayon on paper

Dimensions: 18.9" x 12.4" (48.4 cm x 31.5 cm)

Material Type: Drawings

ADA Caption: Portrait of James Joyce

Curatorial Department: Art Collection

Collection Name: Ivan Opffer Art Collection

Stack Location: 69.140: 7.308 SH14-2: Box 459

Copyright Notices: Some of the documents shown here are subject to U. S. copyright law. It is the user's sole responsibility to contact the copyright holder and secure any necessary copyright permission to publish documents, texts, and images from any holders of rights in these materials. As the owner of the physical object (not the underlying copyright), the Ransom Center requires that you also contact us if you wish to reproduce an image shown here in a print publication or electronically.

Every effort has been made to trace copyright ownership and to obtain permission for reproduction. If you believe you are the copyright owner of an item on this site, and we have not requested your permission, please contact us.

X
Ivan Opffer's Portrait of James Joyce, 1922
Joyce was one of many writers whom Opffer drew over the course of his career. Others included Edgar Lee Masters, Siegfried Sassoon, George Bernard Shaw, Carl Sandburg, G. K. Chesterton, and Thomas Mann.