SIGNATURES
Identified individuals are represented by a biographical sketch, a list of connections to other signatures, and, in most cases, an artifact from the Ransom Centers collections. Help us identify more signatures by submitting your suggested identification.
THE DOOR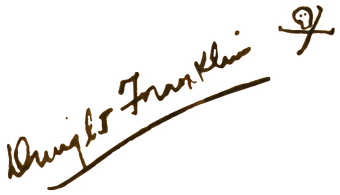 Location on door: front, panel 3
Well-known in his lifetime as a sculptor, museum curator, Hollywood set designer, conservationist, and, in the words of a colleague, "artist-taxidermist," Dwight Franklin (1888-1971) pursued a variety of naturalistic interests. Born into a prominent family in New York City, Franklin spent only a month in art school. He began working for the American Museum of Natural History as a taxidermist in 1906, participating in a 1910 Museum expedition to Mississippi's Moon Lake to collect materials for an exhibit on the paddlefish. His passion for bringing fish to the public seems to predate the expedition, however: in 1908 he received a first place award at the Fourth International Fishery Congress for his paper and presentation entitled "A method of preparing fish for museum and exhibition purposes." During the summer of 1913 Franklin devoted his time to the study of Bailey's Collared Lizard in the Painted Desert of northern Arizona, collecting two specimens as pets. His scientific attention to detail was later put to use in his work building celebrated historical dioramas for a number of museums, including the American Museum of Natural History, the Brooklyn Children's Museum, the Newark Museum, and the Museum of the City of New York, where he worked for a time as chief curator. Though few of his meticulously-researched dioramas remain intact, Franklin was highly regarded for them in his day, credited, in the words of Richard Condrey, with "developing a new art form for conveying accurate information to the public in a captivating manner." Popular Science praised them for their combination of "the plastic sense of the sculptor with the scientist's love of truth." Many Franklin sculptures and figurines were collected in American homes. In the 1930s Franklin left his successful career in New York to work in Hollywood, hoping that movies would become important educational instruments. His expertise enabled him to design sets and costumes, or serve as an art director or consultant, for a number of westerns and pirate films, including Treasure Island (1934), The Buccaneer (1938), and Sinbad the Sailor (1944).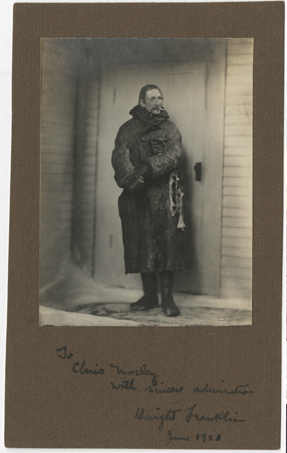 X

Creator: Unidentified photographer

Title: Photograph of a Robert Louis Stevenson figurine by Dwight Franklin

Item Date: ca. 1920

Medium: Gelatin silver print, mounted on paper

Dimensions: 10.2 cm x 7.6 cm

Material Type: Photographs

ADA Caption: Photograph of a Robert Louis Stevenson figurine

Curatorial Department: Photography Collection

Collection Name: Christopher Morley Literary File Photography Collection

Stack Location: Box 9, Folder P898

Copyright Notices: Some of the documents shown here are subject to U. S. copyright law. It is the user's sole responsibility to contact the copyright holder and secure any necessary copyright permission to publish documents, texts, and images from any holders of rights in these materials. As the owner of the physical object (not the underlying copyright), the Ransom Center requires that you also contact us if you wish to reproduce an image shown here in a print publication or electronically.

Every effort has been made to trace copyright ownership and to obtain permission for reproduction. If you believe you are the copyright owner of an item on this site, and we have not requested your permission, please contact us.

X
Photograph of a Dwight Franklin figurine of Robert Louis Stevenson, undated
Franklin developed a specialty in lifelike human figures that became popular collectibles in many American homes. His penchant for sculpting pirates and other romantic historical characters particularly endeared his work to young boys.