SIGNATURES
Identified individuals are represented by a biographical sketch, a list of connections to other signatures, and, in most cases, an artifact from the Ransom Centers collections. Help us identify more signatures by submitting your suggested identification.
THE DOOR

Location on door: front, panel 2
Scudder Middleton (d. 1959) was an acclaimed Greenwich Village poet during the 1910s and 1920s. His poems appeared in such publications as The Forum, The Bellman, Harper's Magazine, and The Poetry Review. His book Streets and Faces was published in 1917, followed by two more collections of poetry in 1919 and 1927. In 1918, Middleton had a brief romance with Edna St. Vincent Millay. As Daniel Mark Epstein has pointed out, Millay's poem "To S. M.: If he should lie a-dying" likely discusses Middleton's departure for Europe during World War I. The poem appears in the second edition of Millay's A Few Figs from Thistles, published by Frank Shay at his bookshop in 1921.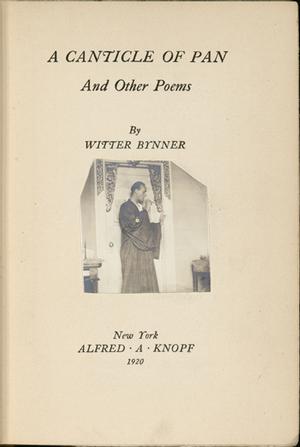 View slide show

X

Creator: Bynner, Witter, 1881-1968

Title: "A Dinner Table" in A Canticle of Pan

Description: Inscribed by Bynner and Idella Purnell Stone with tipped in picture of Bynner

Imprint: New York: Knopf, 1920

Item Date: 1920

Material Type: Monographs

ADA Caption: "A Dinner Table" in A Canticle of Pan

Curatorial Department: Book Collection

Collection Name: Rare Books Collection

Stack Location: PS 3503 Y45 C25

Copyright Notices: Some of the documents shown here are subject to U. S. copyright law. It is the user's sole responsibility to contact the copyright holder and secure any necessary copyright permission to publish documents, texts, and images from any holders of rights in these materials. As the owner of the physical object (not the underlying copyright), the Ransom Center requires that you also contact us if you wish to reproduce an image shown here in a print publication or electronically.

Every effort has been made to trace copyright ownership and to obtain permission for reproduction. If you believe you are the copyright owner of an item on this site, and we have not requested your permission, please contact us.

X
Selected images from "A Dinner Table" from A Canticle of Pan by Witter Bynner (New York: Knopf, 1920). Inscribed by Bynner and Idella Purnell Stone, with a tipped-in photograph of Bynner
The poem "A Dinner-Table" portrays Middleton's behavior during a dinner party. Bynner, like Middleton, was at one point romantically involved with Edna St. Vincent Millay: the two were engaged for a short time in 1921.