SIGNATURES
Identified individuals are represented by a biographical sketch, a list of connections to other signatures, and, in most cases, an artifact from the Ransom Centers collections. Help us identify more signatures by submitting your suggested identification.
THE DOOR

Location on door: front, panel 2
John Leeming Walker (d. 1925?) was a medical doctor who served as ship's surgeon aboard several passenger vessels. Though little is known about Walker, he appears to have attended medical school at McGill University in Montreal. Walker's origins, however, may lie in the United Kingdom, as his friend, writer Lawton Mackall, refers to him as a "Scot" in his book Portugal for Two (1931).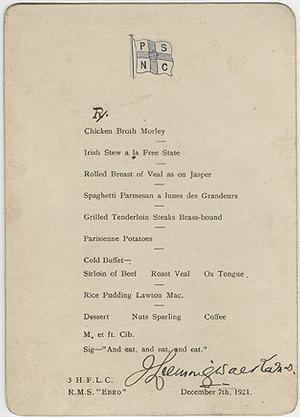 View slide show

X

Title: Menu

Description: Inscribed on recto by J. Leeming Walker M. D. and on verso by Lawton Mackall, David William Bone, Christopher Morley, Herbert Sparling, and Don Marquis

Item Date: 7 December 1921

Material Type: Menu Cards

ADA Caption: Autograph menu card

Curatorial Department: Manuscripts Collection

Collection Name: Christopher Morley Collection

Stack Location: Miscellaneous: Marquis, Don

Copyright Notices: Some of the documents shown here are subject to U. S. copyright law. It is the user's sole responsibility to contact the copyright holder and secure any necessary copyright permission to publish documents, texts, and images from any holders of rights in these materials. As the owner of the physical object (not the underlying copyright), the Ransom Center requires that you also contact us if you wish to reproduce an image shown here in a print publication or electronically.

Every effort has been made to trace copyright ownership and to obtain permission for reproduction. If you believe you are the copyright owner of an item on this site, and we have not requested your permission, please contact us.

X
An inscribed and autographed menu, 7 December 1921
This ship's menu card was specially made for a Three Hours for Lunch Club event, as evinced by the initials "3 H. F. L. C." The card is inscribed on the front by J. Leeming Walker, M. D., and on the verso by Lawton Mackall, David William Bone, Christopher Morley, Herbert Sparling, and Don Marquis. The jovial nature of this social club is captured by the fact that several items on the menu are named after attendees. For example, the dish "Grilled Tenderloin Steaks Brass Bound" likely refers to guest David William Bone, the author of the seafaring novel The Brassbounder (1910), while writer and Three Hours for Lunch Club founder Christopher Morley is honored with "Chicken Broth Morley."