SIGNATURES
Identified individuals are represented by a biographical sketch, a list of connections to other signatures, and, in most cases, an artifact from the Ransom Centers collections. Help us identify more signatures by submitting your suggested identification.
THE DOOR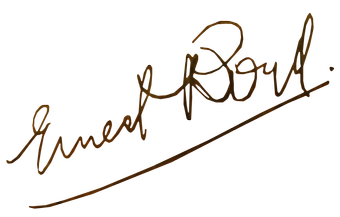 Location on door: front, panel 3
Critic, writer, and translator Ernest Augustus Boyd (1887-1946) was born in Dublin, Ireland. While serving in Baltimore with the British consular service, Boyd formed a friendship with critic H. L. Mencken, editor of the American Mercury. In 1920, after posts in several other countries, Boyd left the consular service and moved to New York to devote himself to his critical career. Known for his "caustic wit," he wrote articles and reviews for the American Mercury, the New York Evening Post, the Saturday Review of Literature, and in the 1930s served as an editor at the American Spectator alongside James Branch Cabell, Eugene O'Neill, and Theodore Dreiser. Boyd published over twenty books, including volumes on the Irish Literary Renaissance, biographies of H. L. Mencken (1925) and Guy de Maupassant (1926), and collections of his essays and criticism. He caused a stir among Villagers, and literary circles in general, with his article "Aesthete: Model 1924." Published in the American Mercury, the piece satirized those associated with little magazines.
View slide show

X

Creator: Pound, Ezra, 1885-1972

Title: Letter to Ernest Boyd

Item Date: 16 May 1917

Material Type: Manuscript

ADA Caption: Letter to Ernest Boyd

Curatorial Department: Manuscripts Collection

Collection Name: Ezra Pound Collection

Stack Location: Box 5, Folder 2

Copyright Clearance: Copyright 2011 by Mary de Rachewiltz and The Estate of Omar S. Pound. Used by permission of New Directions Publishing Corporation.

Copyright Notices: Some of the documents shown here are subject to U. S. copyright law. It is the user's sole responsibility to contact the copyright holder and secure any necessary copyright permission to publish documents, texts, and images from any holders of rights in these materials. As the owner of the physical object (not the underlying copyright), the Ransom Center requires that you also contact us if you wish to reproduce an image shown here in a print publication or electronically.

Every effort has been made to trace copyright ownership and to obtain permission for reproduction. If you believe you are the copyright owner of an item on this site, and we have not requested your permission, please contact us.

X
A Letter from Ezra Pound to Ernest Boyd, 16 May, 1917
This early letter from poet Ezra Pound demonstrates that even during his consular career Boyd was active in literary matters. Pound refers to a brief review of James Joyce's A Portrait of the Artist as a Young Man (1916) that Boyd had published in the journal New Ireland. Boyd chose not to discuss Joyce in Ireland's Literary Renaissance (1916), the first book-length study of the Revival. When he published a revised edition in 1923, however, Boyd added an essay in which he argued that Joyce should be read within the context of the Irish literary tradition.