SIGNATURES
Identified individuals are represented by a biographical sketch, a list of connections to other signatures, and, in most cases, an artifact from the Ransom Centers collections. Help us identify more signatures by submitting your suggested identification.
THE DOOR

Location on door: front, panel 1
Charles Norman's (1904-1996) family immigrated to New York from Russia when he was a small child. He attended New York University between 1921 and 1924 until he left college to pursue a literary career. In 1924, Norman published his first book of poems, The Far Harbour: A Sea Narrative. The poems drew on his experiences as a seaman on a freighter to South America during the summer of 1923. He wrote Tragic Beaches, another book of poems about the sea, in 1925. He was also an active journalist throughout the 1920s and 1930s, writing for the Paris Times, Time, and the Associated Press. During World War II, Norman served in the army as an infantry lieutenant, which provided material for another book of poems, A Soldier's Diary, in 1944. After the war and into the 1950s and 1960s, Norman devoted his creative energy to writing biographies of Christopher Marlowe, William Shakespeare, Ezra Pound, and E. E. Cummings, the last of whom had been Norman's upstairs neighbor in the mid-1920s when they both lived at Patchin Place in Greenwich Village.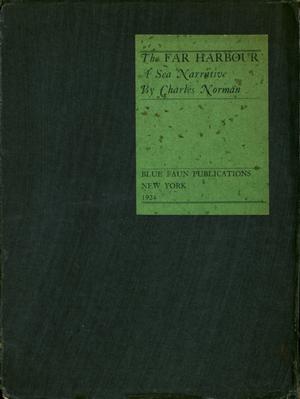 View page turner

X

Creator: Norman, Charles, 1904-1996

Title: The Far Harbour: A Sea Narrative

Imprint: New York: Blue Faun Publications, 1924

Item Date: 1924

Material Type: Monographs

ADA Caption: The Far Harbour: A Sea Narrative

Curatorial Department: Book Collection

Collection Name: Rare Books Collection

Stack Location: PN 3527 O46 F3 1924

Copyright Notices: Some of the documents shown here are subject to U. S. copyright law. It is the user's sole responsibility to contact the copyright holder and secure any necessary copyright permission to publish documents, texts, and images from any holders of rights in these materials. As the owner of the physical object (not the underlying copyright), the Ransom Center requires that you also contact us if you wish to reproduce an image shown here in a print publication or electronically.

Every effort has been made to trace copyright ownership and to obtain permission for reproduction. If you believe you are the copyright owner of an item on this site, and we have not requested your permission, please contact us.

X
Charles Norman's The Far Harbour: A Sea Narrative. New York: Blue Faun Publications, 1924.
This elegant volume was published by the small New York press Blue Faun Publications, an enterprise run by the writer and translator Bernard Guilbert Guerney. Norman's lyric poem concerns adventures of a ship called the Stella Dore and its crew, told from the perspective of one of its sailors.