SIGNATURES
Identified individuals are represented by a biographical sketch, a list of connections to other signatures, and, in most cases, an artifact from the Ransom Centers collections. Help us identify more signatures by submitting your suggested identification.
THE DOOR

Location on door: front, panel 1
Lola Ridge (1873-1941) was a poet and an advocate of feminist and radical politics in Greenwich Village. Born Rose Emily Ridge in Dublin, Ireland, and raised there and in New Zealand, Ridge immigrated to Australia and then in 1907 to the United States where Ridge became involved in the cause of the working class. In 1918, she published The Ghetto and Other Poems, which drew on her first-hand experiences of life among Jewish immigrants in New York's Lower East Side. Ridge was involved in several little magazines, including Others, Broom (where she was the American editor), and the socialist journal New Masses as a contributing editor. Her collection Red Flag (1927) celebrates the Russian Revolution. Firehead (1929) is a crucifixion allegory inspired by the controversial 1927 execution of anarchists Ferdinando Nicola Sacco and Bartolomeo Vanzetti for murder. Ridge was one of the many writers (including John Dos Passos, Susan Glaspell, Edna St. Vincent Millay, Katherine Anne Porter, Frank Shay, and Mary Heaton Vorse) who protested the Sacco and Vanzetti sentence outside the Massachusetts State House, and was arrested for doing so on August 10, 1927. During the 1930s, Ridge traveled extensively, researching a projected five volume poetic sequence, "Lightwheel;" however it remained incomplete at the time of her death from pulmonary tuberculosis in 1941.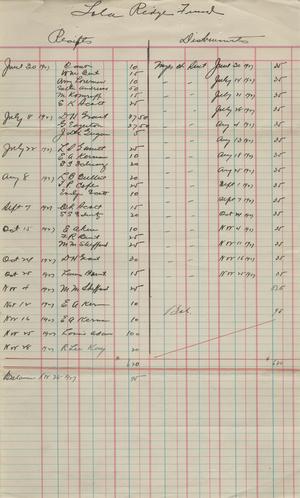 View slide show

X

Title: Ledger sheets for the Lola Ridge Fund

Description: Holograph with typed list of "Remittances Received From" and handwritten annotations

Item Date: circa 1927-1928

Material Type: Manuscript

ADA Caption: Ledger sheets for the Lola Ridge Fund

Curatorial Department: Manuscripts Collection

Collection Name: Evelyn Scott Collection

Stack Location: Box 16, Folder 9

Copyright Notices: Some of the documents shown here are subject to U. S. copyright law. It is the user's sole responsibility to contact the copyright holder and secure any necessary copyright permission to publish documents, texts, and images from any holders of rights in these materials. As the owner of the physical object (not the underlying copyright), the Ransom Center requires that you also contact us if you wish to reproduce an image shown here in a print publication or electronically.

Every effort has been made to trace copyright ownership and to obtain permission for reproduction. If you believe you are the copyright owner of an item on this site, and we have not requested your permission, please contact us.

X
A ledger sheet for the "Lola Ridge Fund" with an accompanying typed, annotated list of "Remittances Received From," undated
Throughout her life in the United States, Lola Ridge struggled financially, often intentionally choosing a life of poverty. These ledger sheets for a "Lola Ridge Fund" come from the collection of her friend and fellow writer, Evelyn Scott. It is unclear whether this fund was to finance Ridge or one of her political causes.