SIGNATURES
Identified individuals are represented by a biographical sketch, a list of connections to other signatures, and, in most cases, an artifact from the Ransom Centers collections. Help us identify more signatures by submitting your suggested identification.
THE DOOR

Location on door: front, panel 1
Critic, poet, and anthologist William Rose Benét (1886-1950) was the middle child in a family of poets. Encouraged by their parents, he and his siblings, Stephen Vincent Benét and Laura Benét, all wrote and published verse. In his final decade, William Rose Benét won the Pulitzer Prize for The Dust which is God (1941), a fictionalized verse autobiography. However, throughout his career, many of his peers, including his second wife, poet Elinor Wylie, did not view him as a serious poet. His reputation came instead from his work as a popular and beloved editor, critic, and columnist. With Henry Seidel Canby, Amy Loveman, and Christopher Morley, Benét edited the Literary Review, a supplement to the New York Evening Post. In 1924, this group left to launch the Saturday Review of Literature. There, Benét penned his long-running column, "The Phoenix Nest." For much of his adult life, Benét lived in Greenwich Village. In the early teens, he lodged at the same Village boarding house as Sinclair Lewis, Harry Kemp, and George Soule. When he died in 1950, he was again living in the Village at 130 West Twelfth Street.
X
X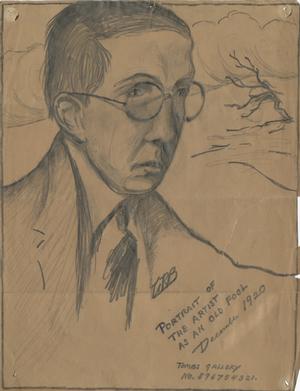 View larger image

X

Creator: Benét, William Rose, 1886-1950

Title: Portrait of the Artist as an Old Fool

Item Date: December 1920

Medium: Pencil on paper

Material Type: Drawings

ADA Caption: Portrait of the Artist as an Old Fool

Curatorial Department: Manuscripts Collection

Collection Name: Christopher Morley Collection

Stack Location: Miscellaneous: Benét

Copyright Notices: Some of the documents shown here are subject to U. S. copyright law. It is the user's sole responsibility to contact the copyright holder and secure any necessary copyright permission to publish documents, texts, and images from any holders of rights in these materials. As the owner of the physical object (not the underlying copyright), the Ransom Center requires that you also contact us if you wish to reproduce an image shown here in a print publication or electronically.

Every effort has been made to trace copyright ownership and to obtain permission for reproduction. If you believe you are the copyright owner of an item on this site, and we have not requested your permission, please contact us.

X
William Rose Benét's Portrait of the Artist as an Old Fool, December 1920
William Rose Benét playfully titled this pencil sketch Portrait of the Artist as an Old Fool. James Joyce's much-lauded novel, A Portrait of the Artist as a Young Man, had been published four years earlier in 1916. Benét, the "Old Fool," was just thirty-three at the time he drew this self-portrait. The drawing resides in the papers of Benét's close friend and editorial colleague, Christopher Morley.