SIGNATURES
Identified individuals are represented by a biographical sketch, a list of connections to other signatures, and, in most cases, an artifact from the Ransom Centers collections. Help us identify more signatures by submitting your suggested identification.
THE DOOR
Location on door: front, panel 3
A native of Scotland, Edward Wilson was fascinated by the sea from his early childhood years in Glasgow. He soon moved to the United States and, as a young man, completed artistic apprenticeships in Chicago and New York. He designed the cover for William McFee's An Engineer's Notebook in 1921. Wilson's first full-length book project was a special 1924 edition of Iron Men and Wooden Ships, a collection of sailor shanties edited by Frank Shay, the owner of the bookshop. During the subsequent two decades, Wilson illustrated many novels, including Robinson Crusoe (1930), The Man Without a Country (1936), Treasure Island (1941), and Jane Eyre (1944). Later in his career, he produced illustrations for magazines and a number of World War II propaganda posters, some of which may be viewed in Thomas Craven's study The Book of Edward A. Wilson (New York: The Heritage Press, 1948).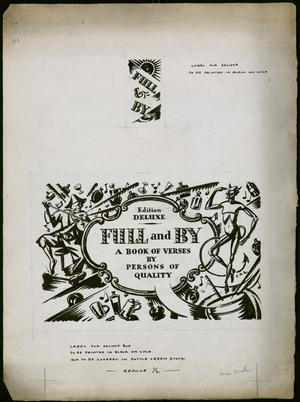 View slide show

X

Creator: Wilson, Edward Arthur, 1886-1970

Title: Original illustrations for Full and By

Description: Four selections from larger portfolio

Item Date: 1925

Medium: Watercolor drawing

Material Type: Drawings

Curatorial Department: Art Collection

Collection Name: Art Collection

Stack Location: 65.503.1; 65.503.2; 65.503.16; 65.503.22

Copyright Notices: Some of the documents shown here are subject to U. S. copyright law. It is the user's sole responsibility to contact the copyright holder and secure any necessary copyright permission to publish documents, texts, and images from any holders of rights in these materials. As the owner of the physical object (not the underlying copyright), the Ransom Center requires that you also contact us if you wish to reproduce an image shown here in a print publication or electronically.

Every effort has been made to trace copyright ownership and to obtain permission for reproduction. If you believe you are the copyright owner of an item on this site, and we have not requested your permission, please contact us.

X
Four original illustrations for Full and By, ca. 1925
Wilson created these original illustrations for a limited printing of Full and By, A Collection of Verses by Persons of Quality in Praise of Drinking (Garden City, N. Y., Doubleday, Page & Company, 1925). The collection featured a foreword by editor Cameron Rogers as well as prefaces by Don Marquis and Christopher Morley. These three, along with Wilson, signed each of the 200 copies printed. Full and By not only depicts these friends' open defiance of prohibition but their interest in seafaring. "Full and by" is a sailing term that refers to keeping sails full while sailing as close to the wind as possible; on shore, it may be used to mean reaching a compromise.