SIGNATURES
Identified individuals are represented by a biographical sketch, a list of connections to other signatures, and, in most cases, an artifact from the Ransom Centers collections. Help us identify more signatures by submitting your suggested identification.
THE DOOR
Location on door: front, panel 3
Actor and playwright Holland Hudson (b. 1889) was best known for his pantomime The Shepherd in the Distance, which garnered much attention in the early days of the Washington Square Players. The play was technically experimental, and one reviewer marveled that "the actors mimed always in profile and grouped themselves so skillfully that the stage at any moment was a bold poster in black and white." The piece was included in Frank Shay's Fifty Contemporary One-Act Plays in 1920 and became a popular choice for little theater productions nationwide. Hudson continued to write and direct plays into the 1920s.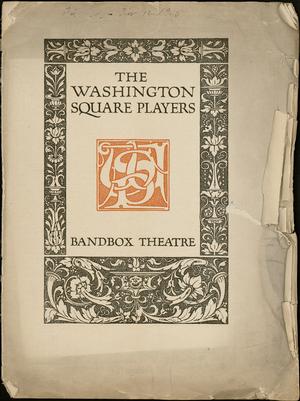 View page turner

X

Creator: Washington Square Players

Title: Playbill from the Washington Square Players' 1915-1916 season at the Bandbox Theatre

Item Date: 1915

Material Type: Playbills

ADA Caption: Playbill from the Washington Square Players' 1915-1916 season at the Bandbox theatre

Curatorial Department: Performing Arts Collection

Collection Name: Playbills and Programs Collection

Stack Location: Box New York Theatres 1915, Folder Bandbox Theatre

Copyright Notices: Some of the documents shown here are subject to U. S. copyright law. It is the user's sole responsibility to contact the copyright holder and secure any necessary copyright permission to publish documents, texts, and images from any holders of rights in these materials. As the owner of the physical object (not the underlying copyright), the Ransom Center requires that you also contact us if you wish to reproduce an image shown here in a print publication or electronically.

Every effort has been made to trace copyright ownership and to obtain permission for reproduction. If you believe you are the copyright owner of an item on this site, and we have not requested your permission, please contact us.

X
A playbill from the Washington Square Players' 1917 season
This Washington Square Players playbill credits Holland Hudson as a member of the producing staff. Hudson also variously served as managing director and sometime actor until the dissolution of the Players in 1919.