SIGNATURES
Identified individuals are represented by a biographical sketch, a list of connections to other signatures, and, in most cases, an artifact from the Ransom Centers collections. Help us identify more signatures by submitting your suggested identification.
THE DOOR

Location on door: front, panel 2
Kenneth Macgowan (1888-1963) was an active participant in Greenwich Village's theater scene as early as 1919, when he served on the Advisory Board of the Theatre Guild until 1922. In that year, Macgowan succeeded George Cram Cook as the director of the Provincetown Playhouse, where he worked alongside his close friend Eugene O'Neill. Macgowan also produced plays for the Greenwich Village Theatre and the Actors Theatre. A respected writer and drama critic, Macgowan published several books in the early 1920s, including The Theatre of Tomorrow (1921), and he contributed articles to the New York Globe, Vogue, and Theatre Arts magazine. In 1928, Macgowan moved to Hollywood, California and eventually became an accomplished film producer for RKO, Twentieth Century-Fox and Paramount Pictures.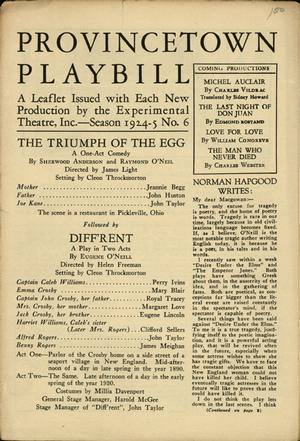 view page turner

X

Creator: Provincetown Playhouse

Title: Provincetown Playbill, Season 1924-5, No. 6

Item Date: 1924-5

Material Type: Playbills

ADA Caption: Provincetown Playbill, Season 1924-5, No. 6

Curatorial Department: Performing Arts Collection

Collection Name: Playbills and Programs Collection: New York City Theaters

Stack Location: New York City, 1918

Copyright Notices: Some of the documents shown here are subject to U. S. copyright law. It is the user's sole responsibility to contact the copyright holder and secure any necessary copyright permission to publish documents, texts, and images from any holders of rights in these materials. As the owner of the physical object (not the underlying copyright), the Ransom Center requires that you also contact us if you wish to reproduce an image shown here in a print publication or electronically.

Every effort has been made to trace copyright ownership and to obtain permission for reproduction. If you believe you are the copyright owner of an item on this site, and we have not requested your permission, please contact us.

X
Provincetown Playbill, Season 1924-5, No. 6
This playbill from the Provincetown Playhouse, whose company had changed its name to The Experimental Theatre, Inc., conveys the variety of Macgowan's involvement with the little theatre movement in New York. In addition to details on the Playhouse's production of plays by Sherwood Anderson and O'Neill, the playbill also includes a letter to Macgowan by Norman Hapgood discussing the importance of O'Neill's voice to contemporary theater, as well as an endorsement by Macgowan in an advertisement for a local teacher of Dalcroze Eurhythmics.