SIGNATURES
Identified individuals are represented by a biographical sketch, a list of connections to other signatures, and, in most cases, an artifact from the Ransom Centers collections. Help us identify more signatures by submitting your suggested identification.
THE DOOR

Location on door: front, panel 3
The screenwriter Arthur Caesar (1892-1953) was born in Romania. His family came to the United States as a child and moved to the Lower East Side of Manhattan, where their father ran a used bookstore. Arthur and his brother Irving were childhood friends of the Marx brothers. Irving went on to be a well-known lyricist, and both brothers were friends with George Gershwin and mutual friend Lou Paley. Arthur Caesar attended Yale University, and began his career working as a reporter. He was an active member of the Village community in the 1910s, and a member of the Liberal Club during the time that Frank Shay ran the Washington Square Bookshop next door. He served in the United States Army in World War I. In the early 1920s, he wrote plays, one of which, Napoleon's Barber, was published in Frank Shay's anthology Contemporary One-Act Plays (1921). It was made into a film directed by John Ford in 1928. Caesar's screenplays began being produced as early as 1924, and from that point on he wrote prolifically, producing the screenplays for more than thirty films over the course of his career. He lived in Beverly Hills for most of his life, and was a well-known wit in the Hollywood social scene.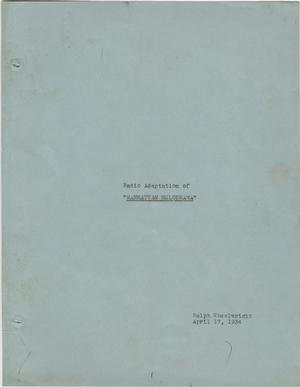 View slide show

X

Creator: Caesar, Arthur (Screenwriter)

Wheelwright, Ralph, 1898-1971

Title: Radio adaptation of the film Manhattan Melodrama

Description: Opening pages

Item Date: 1934

Material Type: Manuscript

ADA Caption: Radio adaptation of the film Manhattan Melodrama

Curatorial Department: Film Collection

Collection Name: David O Selznick Papers

Stack Location: Box 1061, Folder 11

Copyright Notices: Some of the documents shown here are subject to U. S. copyright law. It is the user's sole responsibility to contact the copyright holder and secure any necessary copyright permission to publish documents, texts, and images from any holders of rights in these materials. As the owner of the physical object (not the underlying copyright), the Ransom Center requires that you also contact us if you wish to reproduce an image shown here in a print publication or electronically.

Every effort has been made to trace copyright ownership and to obtain permission for reproduction. If you believe you are the copyright owner of an item on this site, and we have not requested your permission, please contact us.

X
The opening pages of the script for a radio adaptation of Arthur Caesar's screenplay Manhattan Melodrama, 1934
Caesar received an Oscar for Manhattan Melodrama's screenplay in 1934. Directed by George Kukor and starring Clark Gable and William Powell, the film tells the story of two orphan boys who grow up on the Lower East Side and take very different paths in life: one becomes a district attorney and the other ganster. Infamously, it was the film that John Dillinger watched just before he was shot and killed by federal officials.