SIGNATURES
Identified individuals are represented by a biographical sketch, a list of connections to other signatures, and, in most cases, an artifact from the Ransom Centers collections. Help us identify more signatures by submitting your suggested identification.
THE DOOR

Location on door: front, panel 1
Born in Cokeville, Wyoming, Norman Jacobsen (1885-1944) moved to Greenwich Village as a young man and began a career as an artist and illustrator. Jacobsen was a cartoonist for The Masses, and had a cartoon published in the New York Tribune which satirized the fastidious rehearsal habits of Eugene O'Neill at the Provincetown Playhouse. Jacobsen designed the sets for the Provincetown Players' production of Mary Carolyn Davies's The Slave with Two Faces, which opened on 25 January 1918. During his time in New York Jacobsen also co-authored a number of novels with the writer Nina Wilcox Putnam and illustrated Pierre Loving's book Letters from Beatrice (to a private in the Medical Department). In 1920, Jacobsen left New York and spent the next 19 years traveling in Europe, Asia, and Africa, before settling permanently in Salt Lake City, Utah. During his time abroad he exhibited his paintings in galleries in New York and Chicago.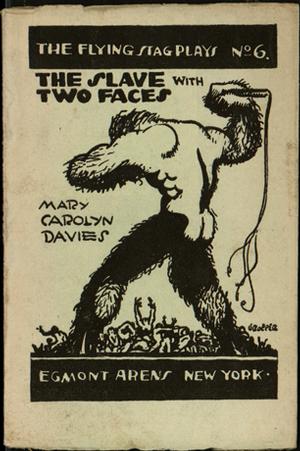 view page turner

X

Creator: Davies, Mary Carolyn

Title: The Slave with Two Faces

Imprint: New York: Egmont Arens, 1918

Item Date: 1920

Material Type: Monographs

ADA Caption: "The Slave with Two Faces," in Fifty Contemporary One-Act Plays

Curatorial Department: Book Collection

Collection Name: Rare Books Collection

Stack Location: PS 3507 A711 S6 1918 HRC-TA

Copyright Notices: Some of the documents shown here are subject to U. S. copyright law. It is the user's sole responsibility to contact the copyright holder and secure any necessary copyright permission to publish documents, texts, and images from any holders of rights in these materials. As the owner of the physical object (not the underlying copyright), the Ransom Center requires that you also contact us if you wish to reproduce an image shown here in a print publication or electronically.

Every effort has been made to trace copyright ownership and to obtain permission for reproduction. If you believe you are the copyright owner of an item on this site, and we have not requested your permission, please contact us.

X
Mary Carolyn Davies's The Slave with two Faces (New York: Egmont Arens, 1918)
Egmont Arens' edition pays homage to the Provincetown Players production of Mary Carolyn Davies's play by including the credits from the original playbill along with the script. Jacobsen is listed as the set designer.