SIGNATURES
Identified individuals are represented by a biographical sketch, a list of connections to other signatures, and, in most cases, an artifact from the Ransom Centers collections. Help us identify more signatures by submitting your suggested identification.
THE DOOR

Location on door: front, panel 2
Jacob Salwyn Schapiro (1879-1973) taught modern European history for many years at the City College of New York. His research interests included the history of liberalism and social movements, and he is known for his surveys of European history and his biography of Condorcet.
X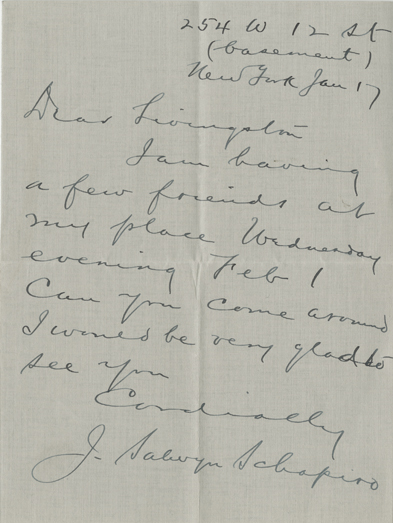 X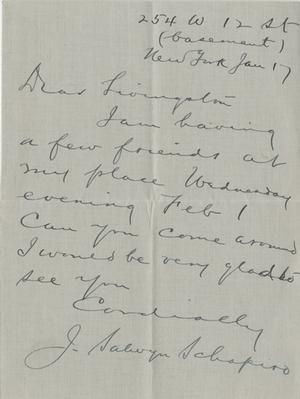 View larger image

X

Creator: Schapiro, Jacob Salwyn, 1879-1973

Title: Letter to Arthur Livingston

Item Date: 17 January

Material Type: Manuscript

ADA Caption: Letter to Arthur Livingston

Curatorial Department: Manuscripts Collection

Stack Location: Recipient: Livingston, Arthur

Copyright Notices: Some of the documents shown here are subject to U. S. copyright law. It is the user's sole responsibility to contact the copyright holder and secure any necessary copyright permission to publish documents, texts, and images from any holders of rights in these materials. As the owner of the physical object (not the underlying copyright), the Ransom Center requires that you also contact us if you wish to reproduce an image shown here in a print publication or electronically.

Every effort has been made to trace copyright ownership and to obtain permission for reproduction. If you believe you are the copyright owner of an item on this site, and we have not requested your permission, please contact us.

X
A letter from Jacob Salwyn Schapiro to Arthur Livingston
Arthur Livingston was a professor of Romance languages and literatures, publisher, and translator who taught at Columbia University for many years. He and Schapiro shared an interest in twentieth-century European culture.