SIGNATURES
Identified individuals are represented by a biographical sketch, a list of connections to other signatures, and, in most cases, an artifact from the Ransom Centers collections. Help us identify more signatures by submitting your suggested identification.
THE DOOR

Location on door: front, panel 3
Seward B. Collins (1899-1952) was a publisher who is best remembered for his affair with writer Dorothy Parker in the mid-1920s. After graduating from Princeton in 1921, Collins wrote for the Brooklyn Daily Eagle and mingled with the New York literati. In 1927, he bought the magazine The Bookman and served as its publisher until 1933. That same year he founded The American Review (1933-1937) which published Southern Agrarian writers like Robert Penn Warren. Though Collins's politics had been liberal in the early 1920s, by the 1930s he had moved to the right and advocated a mix of agrarianism, localism, and fascism, alienating a number of his friends.
X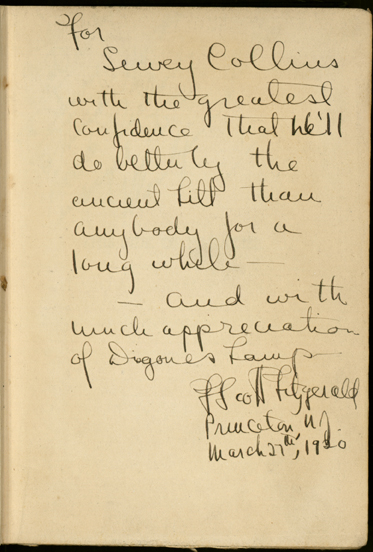 X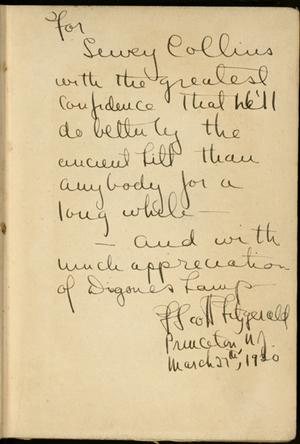 View larger image

X

Creator: Fitzgerald, F. Scott (Francis Scott), 1896-1940

Title: This Side of Paradise

Description: Inscribed by the author to Seward B. Collins

Imprint: New York: Charles Scribner's Sons, 1920

Item Date: 1920

Material Type: Monographs

ADA Caption: This Side of Paradise

Curatorial Department: Book Collection

Collection Name: Rare Books Collection

Stack Location: PS 3511 I9 T5 1920

Copyright Notices: Some of the documents shown here are subject to U. S. copyright law. It is the user's sole responsibility to contact the copyright holder and secure any necessary copyright permission to publish documents, texts, and images from any holders of rights in these materials. As the owner of the physical object (not the underlying copyright), the Ransom Center requires that you also contact us if you wish to reproduce an image shown here in a print publication or electronically.

Every effort has been made to trace copyright ownership and to obtain permission for reproduction. If you believe you are the copyright owner of an item on this site, and we have not requested your permission, please contact us.

X
The title page of F. Scott Fitzgerald's This Side of Paradise (New York: Charles Scribner's Sons, 1920) and author's inscription to Seward B. Collins
This Side of Paradise (1920) is F. Scott Fitzgerald's first novel of "flaming youth" and is partially set at Princeton University. In it, the former Princetonian famously refers to the university as "the pleasantest country club in America." Fitzgerald's inscription to "Sewey" is dated March 27, 1920, the day after the book's publication. Collins was still a student at this time and ran the column "Diogenes' Lamp" in the Princetonian. Though some at the university were scandalized by Fitzgerald's depiction of their school, the novel was quite popular among students.