SIGNATURES
Identified individuals are represented by a biographical sketch, a list of connections to other signatures, and, in most cases, an artifact from the Ransom Centers collections. Help us identify more signatures by submitting your suggested identification.
THE DOOR

Location on door: front, panel 1
Ironically, Hugh Ferriss (1889-1962), the visionary architect who believed that skyscrapers were the product of a culture devoid of spirituality, is now perhaps best known for his drawings of skyscrapers. Ferriss was a talented draftsman who made a career for himself by rendering the designs of other prominent architects of the early twentieth century. His own ideas and designs were more utopian than practical; in his 1929 book Metropolis of Tomorrow, Ferriss wrote about and illustrated a future city of New York that was divided into discrete zones, all skyscrapers evenly spaced between shorter buildings to provide an open-air city plan. Though most of Ferriss's designs remained unrealized, he worked as a consultant for several architectural projects that did come to fruition in New York in the 1940s and 1950s, including Idlewild Airport and the United Nations Headquarters. Ferriss received numerous awards from the Architectural League of New York, and he also served as president of that organization, as well as the New York Chapter of the American Institute of Architects. Ferriss's drawings were published in numerous magazines, including Century, Harper's, and The Quill. In addition to his architectural pursuits, Ferriss illustrated playbill covers for the Greenwich Village Playhouse.
X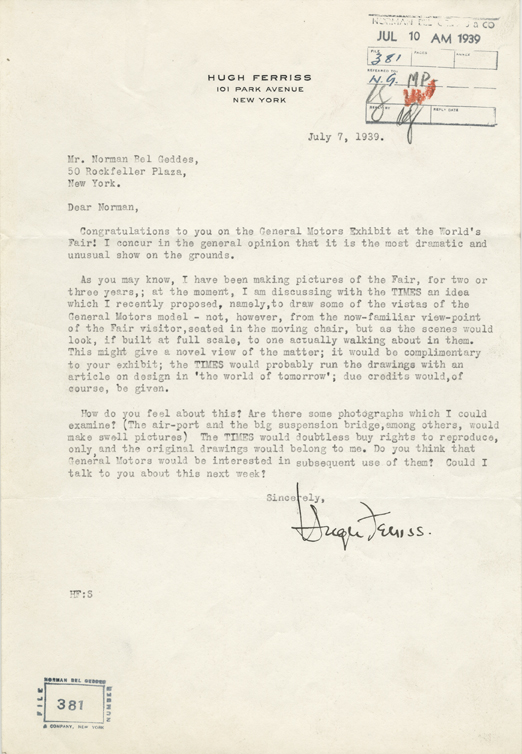 X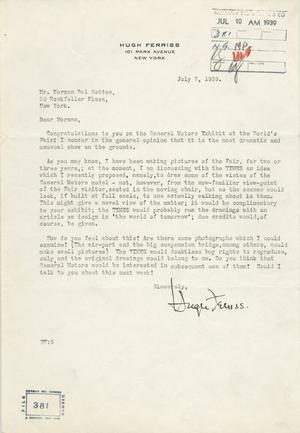 View larger image

X

Creator: Ferriss, Hugh, 1889-1962

Title: Letter to Norman Bel Geddes

Item Date: 7 July 1939

Material Type: Manuscript

ADA Caption: Letter to Norman Bel Geddes

Curatorial Department: Performing Arts Collection

Collection Name: Norman Bel Geddes Theater and Industrial Design Papers

Stack Location: Box 95a, Folder 957.123

Copyright Notices: Some of the documents shown here are subject to U. S. copyright law. It is the user's sole responsibility to contact the copyright holder and secure any necessary copyright permission to publish documents, texts, and images from any holders of rights in these materials. As the owner of the physical object (not the underlying copyright), the Ransom Center requires that you also contact us if you wish to reproduce an image shown here in a print publication or electronically.

Every effort has been made to trace copyright ownership and to obtain permission for reproduction. If you believe you are the copyright owner of an item on this site, and we have not requested your permission, please contact us.

X
Ferriss's 1939 letter to the industrial designer Norman Bel Geddes offers insight into how Ferriss conceived of his original drawings. As a design artist for the New York World's Fair, Ferriss drafted several images of the famous exposition, which, much in line with Ferriss's own interests, offered idealized models of a future world and its potential for technological innovation.