SIGNATURES
Identified individuals are represented by a biographical sketch, a list of connections to other signatures, and, in most cases, an artifact from the Ransom Centers collections. Help us identify more signatures by submitting your suggested identification.
THE DOOR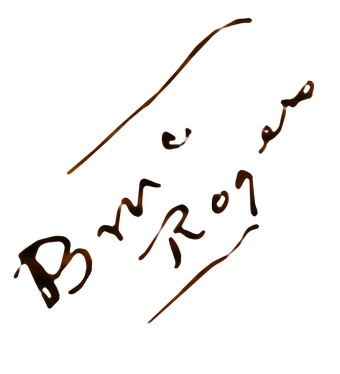 Location on door: front, panel 2
Alfred Bruce Rogers (1870-1957) is a major figure in the history of typography and book design. Born in Indiana, Rogers began his career as a newspaper illustrator and entered the world of book publishing in 1895. For fifteen years, he designed fine editions at the Riverside Press in Boston, and then for two decades worked at presses up and down the East Coast and in England. He lived in New York in the 1910s, where he worked for the Metropolitan Museum of Art; it was in the course of his employment there that he designed his famous typeface Centaur, which first appeared in print in 1914-15. Over his career, Rogers designed more than 500 books. In 1925 he bought a home in Fairfield, Connecticut, eventually settling there in the 1930s. Rogers's most famous single work, the monumental Oxford University Press edition of the Bible known as the Oxford Lectern Bible (1935), used Centaur type and is considered a masterpiece of printing.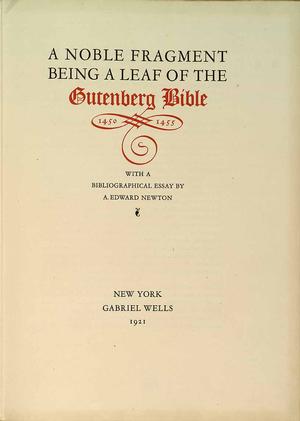 View page turner

X

Creator: Rogers, Bruce, 1870-1957 (Book designer)

Newton, A. Edward, 1864-1940 (Author of bibliography)

Title: A Noble Fragment: Being A Leaf of the Gutenberg Bible

Imprint: New York: Gabriel Wells, 1921

Item Date: 1921

Material Type: Monographs

ADA Caption: A Noble Fragment: Being A Leaf of the Gutenberg Bible

Curatorial Department: Book Collection

Collection Name: Incunabula

Stack Location: Incun 1454 B471n

Copyright Notices: Some of the documents shown here are subject to U. S. copyright law. It is the user's sole responsibility to contact the copyright holder and secure any necessary copyright permission to publish documents, texts, and images from any holders of rights in these materials. As the owner of the physical object (not the underlying copyright), the Ransom Center requires that you also contact us if you wish to reproduce an image shown here in a print publication or electronically.

Every effort has been made to trace copyright ownership and to obtain permission for reproduction. If you believe you are the copyright owner of an item on this site, and we have not requested your permission, please contact us.

X
A Noble Fragment: being a leaf of the Gutenberg Bible 1450-1455 (1921)
Each copy of this collectible edition contains a leaf from an original copy of the Gutenberg Bible; the book was designed by Bruce Rogers.