SIGNATURES
Identified individuals are represented by a biographical sketch, a list of connections to other signatures, and, in most cases, an artifact from the Ransom Centers collections. Help us identify more signatures by submitting your suggested identification.
THE DOOR

Location on door: front, panel 2
David William Bone (1874-1958) was a captain and a writer known for his stories of the sea. Born in Patrick, Scotland, Bone first went to sea while still a teenager. He commanded vessels in the Merchant Navy in both World Wars and passed much of his career with the Anchor Line. Bone's writing often draws on his own seafaring experiences: the story, "The Man-o'-War's 'Er 'Usband," from Merchantmen-at-Arms; The British Merchants' Service in the War (1919), offers an account of the torpedoing of his ship in the Mediterranean during the First World War. After publishing The Brassbounder in 1910, Bone considered leaving his maritime career to write full-time. However, he decided against this when he heard that retiring from the sea was one of Joseph Conrad's greatest regrets. Bone was knighted in 1946.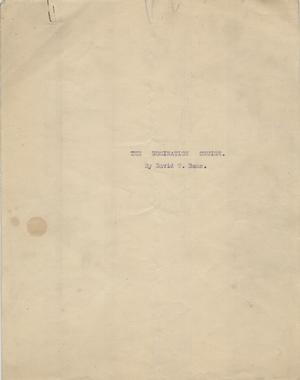 View slide show

X

Creator: Bone, David William, 1874-1959

Title: "The Nomination Cruise"

Description: Typescript with handwritten corrections

Item Date: Undated

Material Type: Manuscript

ADA Caption: "The Nomination Cruise"

Curatorial Department: Manuscripts Collection

Collection Name: Christopher Morley Collection

Stack Location: Miscellaneous: Bone, David William

Copyright Clearance: Grateful acknowledgement is made to the David William Bone Estate for permission to display this artifact.

Copyright Notices: Some of the documents shown here are subject to U. S. copyright law. It is the user's sole responsibility to contact the copyright holder and secure any necessary copyright permission to publish documents, texts, and images from any holders of rights in these materials. As the owner of the physical object (not the underlying copyright), the Ransom Center requires that you also contact us if you wish to reproduce an image shown here in a print publication or electronically.

Every effort has been made to trace copyright ownership and to obtain permission for reproduction. If you believe you are the copyright owner of an item on this site, and we have not requested your permission, please contact us.

X
An annotated typescript of David William Bone's "The Nomination Cruise," undated
This work weaves a fantastical tale about how Bone's friends, writer Christopher Morley, architect Franklin Abbott, and others surprise the captain by secretly chartering his ship for a two month-long world cruise for members of the Three Hours for Lunch Club and their friends. By the story's end, however, we learn that there is a reason that the details of this surprise cruise seem so grandiose and improbable. Bone's tale paints a light-hearted portrait of the challenges of a life at sea, where brief dockings and busy schedules leave little time for visiting with one's friends.