SIGNATURES
Identified individuals are represented by a biographical sketch, a list of connections to other signatures, and, in most cases, an artifact from the Ransom Centers collections. Help us identify more signatures by submitting your suggested identification.
THE DOOR

Location on door: front, panel 2
Michigan native Webb Waldron (1888-[1960?]) graduated from the University of Michigan in 1905. He began his career as a copy writer for Dr. Eliot's Five Foot Shelf (later known as the Harvard Classics), the series published by P. F. Collier and Son. He became the managing editor of Collier's Weekly in 1917 and left the position in September 1918 to become the magazine's war correspondent in Europe. In November, Waldron became the first American magazine reporter to enter Germany after the armistice. Waldron published his first novel, The Road to the World, in 1922. In the next two decades, he published five more novels and contributed to periodicals such as Esquire, Century Magazine, and Reader's Digest, where he became an editor in the 1940s.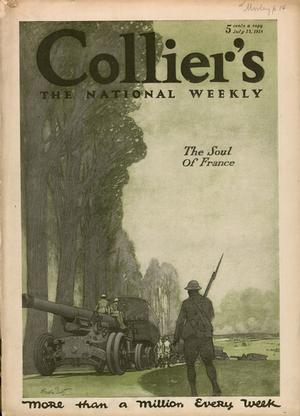 View page turner

X

Title: Collier's Weekly

Imprint: 61.18 (July 1918)

Item Date: 13 July 1918

Material Type: Periodical

ADA Caption: Front cover and masthead from an issue of Collier's Weekly

Curatorial Department: Book Collection

Collection Name: Rare Books Collection

Stack Location: f PS3525.O71 B377

Copyright Notices: Some of the documents shown here are subject to U. S. copyright law. It is the user's sole responsibility to contact the copyright holder and secure any necessary copyright permission to publish documents, texts, and images from any holders of rights in these materials. As the owner of the physical object (not the underlying copyright), the Ransom Center requires that you also contact us if you wish to reproduce an image shown here in a print publication or electronically.

Every effort has been made to trace copyright ownership and to obtain permission for reproduction. If you believe you are the copyright owner of an item on this site, and we have not requested your permission, please contact us.

X
The entirety of Collier's Weekly 61.18 (13 July 1918)
This issue of Collier's Weekly was published during Waldron's final months as managing editor. The title article was written by James Hopper, the war correspondent whose position Waldron filled upon venturing to Europe.