SIGNATURES
Identified individuals are represented by a biographical sketch, a list of connections to other signatures, and, in most cases, an artifact from the Ransom Centers collections. Help us identify more signatures by submitting your suggested identification.
THE DOOR

Location on door: front, panel 2
The Louisiana editor and poet Basil Thompson (1892-1924) was a friend and colleague to many who signed the door. Well-known in the New Orleans literary community, Thompson had his work published in nationally known magazines such as the Bookman and Smart Set, and he published two books of poetry before becoming cofounder and editor, with Julius Weis Friend, of the little magazine the Double Dealer in 1920. Printed in New Orleans, the Double Dealer published fiction, essays, and poems by many major writers. It includes frequent contributions of the lesser known Vincent Starrett, who was a good friend of Thompson's. Thompson worked on the magazine until his unexpected death from pneumonia in 1924. His signature on the door, "Sir" Basil Thompson, is a joking reference to the similarly named Sir Basil Thomson, a well-known British government official and writer.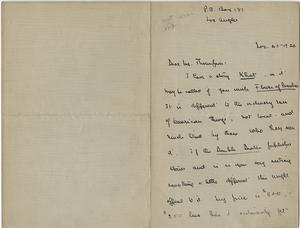 View slide show

X

Creator: Dreiser, Theodore, 1871-1945

Title: Letter to Basil Thompson

Item Date: 20 November 1920

Material Type: Manuscript

ADA Caption: Letter to Basil Thompson

Curatorial Department: Manuscripts Collection

Collection Name: Theodore Dreiser Collection

Stack Location: Letters A-Z: Dreiser

Copyright Notices: Some of the documents shown here are subject to U. S. copyright law. It is the user's sole responsibility to contact the copyright holder and secure any necessary copyright permission to publish documents, texts, and images from any holders of rights in these materials. As the owner of the physical object (not the underlying copyright), the Ransom Center requires that you also contact us if you wish to reproduce an image shown here in a print publication or electronically.

Every effort has been made to trace copyright ownership and to obtain permission for reproduction. If you believe you are the copyright owner of an item on this site, and we have not requested your permission, please contact us.

X
A letter from Theodore Dreiser to Basil Thompson, November 20, 1920
The Double Dealer did not publish the story offered in this note, presumably due to the high fee required by the well-established Dreiser. The story was published as "Khat" in Dreiser's 1927 collection Chains: Lesser Novels and Stories.