SIGNATURES
Identified individuals are represented by a biographical sketch, a list of connections to other signatures, and, in most cases, an artifact from the Ransom Centers collections. Help us identify more signatures by submitting your suggested identification.
THE DOOR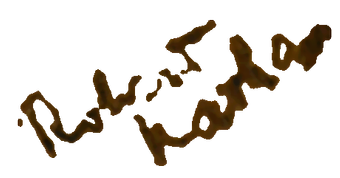 Location on door: front, panel 1
The prolific novelist Robert Nathan (1894-1985) was educated at Harvard, where he was editor of the Harvard Monthly and became friends with John Dos Passos. After a brief stint in California, Nathan moved to Greenwich Village in 1920, just a year after the publication of his first novel. There he became an active participant in the Greenwich Village literary scene, where Stephen Vincent Benét and John V. A. Weaver numbered among his friends. Nathan enjoyed a long and prolific career as a writer, authoring more than forty novels, collections of essays and poems, and a screenplay. His most popular novel was Portrait of Jennie, published in 1940.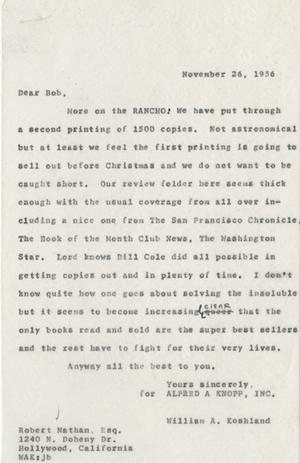 View slide show

X

Creator: Koshland, William A.

Nathan, Robert, 1894-1985

Title: Letter to William A. Koshland with a carbon copy of Koshland's response

Item Date: 26 November 1956

Material Type: Manuscript

Curatorial Department: Manuscripts Collection

Collection Name: Alfred A. Knopf, Inc. Records

Stack Location: Box 16, Folder 5

Copyright Notices: Some of the documents shown here are subject to U. S. copyright law. It is the user's sole responsibility to contact the copyright holder and secure any necessary copyright permission to publish documents, texts, and images from any holders of rights in these materials. As the owner of the physical object (not the underlying copyright), the Ransom Center requires that you also contact us if you wish to reproduce an image shown here in a print publication or electronically.

Every effort has been made to trace copyright ownership and to obtain permission for reproduction. If you believe you are the copyright owner of an item on this site, and we have not requested your permission, please contact us.

X
A letter from Robert Nathan to William A. Koshland with a carbon copy of Koshland's response, November 1956
This correspondence with Koshland, Nathan's editor at Alfred A. Knopf Inc., concerns the marketing techniques used to publicize Nathan's 1956 novel The Rancho of the Little Loves. Nathan published with Knopf from 1933 to 1971, and these items reveal the challenges inherent in a long relationship between writer and editor, across the high and low points of a literary career. Here, Nathan expresses frustration over his struggle to introduce fans of Portrait of Jennie to his later works.