SIGNATURES
Identified individuals are represented by a biographical sketch, a list of connections to other signatures, and, in most cases, an artifact from the Ransom Centers collections. Help us identify more signatures by submitting your suggested identification.
THE DOOR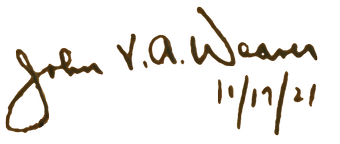 Location on door: front, panel 1
John V. A. Weaver (1893-1938) grew up in Charlotte, North Carolina, and graduated from Hamilton College in Clinton, New York. He attended Harvard from 1914-15 (where he was a classmate of Eugene O'Neill's) until he moved to Chicago to be the literary editor of the Chicago Daily News. During World War I, Weaver served as an army lieutenant, then resumed his career as a critic at the Brooklyn Daily Eagle, where he was the literary editor from 1920-24. Weaver's first book of poetry, In American, was published in 1921 and was groundbreaking for its startlingly idiomatic treatment of the English language. During the 1920s he published four more books of poetry, two novels, and a play. In 1924 he married the stage and screen actress Peggy Wood, a member of the Algonquin Round Table, and in 1928 the couple moved to Hollywood, where Weaver became a successful screenwriter. His screenplays include The Crowd, which was directed by King Vidor in 1928, and the 1938 David O. Selznick adaptation of Mark Twain's The Adventures of Tom Sawyer.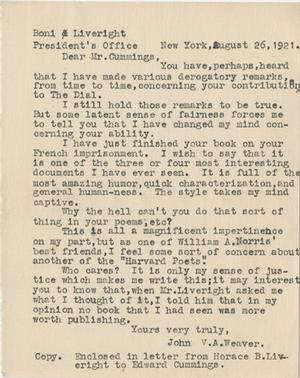 View slide show

X

Creator: Weaver, John V. A. (John Van Alstyne), 1893-1938

Liveright, Horace Brisbin, 1886-1933

Title: Letter to Edward Cummings and enclosed letter to E. E. Cummings

Description: Typed copy of letter from John V. A. Weaver, enclosed with letter from Horace B. Liveright

Item Date: 26 August 1921

Material Type: Manuscript

ADA Caption: Letter to Edward Cummings and enclosed letter to E. E. Cummings

Curatorial Department: Manuscripts Collection

Collection Name: E. E. (Edward Estlin) Cummings Collection

Stack Location: Box 8, Folder 10

Copyright Notices: Some of the documents shown here are subject to U. S. copyright law. It is the user's sole responsibility to contact the copyright holder and secure any necessary copyright permission to publish documents, texts, and images from any holders of rights in these materials. As the owner of the physical object (not the underlying copyright), the Ransom Center requires that you also contact us if you wish to reproduce an image shown here in a print publication or electronically.

Every effort has been made to trace copyright ownership and to obtain permission for reproduction. If you believe you are the copyright owner of an item on this site, and we have not requested your permission, please contact us.

X
A letter from John V. A. Weaver to Edward Cummings and enclosed letter to E. E. Cummings, 26 August 1921
In this 1921 letter to E. E. Cummings, which was forwarded to Cummings via Horace B. Liveright and Cummings's father, Weaver stands by prior claims he had made that Cummings's poetry is sub-par, but lavishes unqualified praise upon Cummings's autobiographical novel The Enormous Room, which Boni & Liveright would publish in 1922. Weaver later wrote a positive review of The Enormous Room for his column in the Brooklyn Daily Eagle.