SIGNATURES
Identified individuals are represented by a biographical sketch, a list of connections to other signatures, and, in most cases, an artifact from the Ransom Centers collections. Help us identify more signatures by submitting your suggested identification.
THE DOOR

Location on door: front, panel 3
Missouri-born writer Homer Croy (1883-1965) was a prolific novelist and non-fiction writer. As a young man, he worked as a reporter for newspapers in his home state, and briefly attended the University of Missouri with Orrick Johns before dropping out and moving to New York where he wrote magazine copy for Theodore Dreiser at Butterick Publications. Fascinated by the young field of filmmaking, Croy traveled abroad in the mid-1910s making film documentaries about exotic locales, and his films were screened for soldiers during the war. Returning to New York, he became known for his humorous essays about Missouri life, and most of his later works likewise treated midwestern themes. In 1923, he published the anonymous novel West of the Water Tower, a critique of small-town mores that was compared favorably to Sinclair Lewis's Main Street (1920). Soon after, the novel was adapted for film, and Croy used the proceeds to travel to Paris. He wrote about the experience many years later in his memoir Country Cured (1943). The trip also inspired his best-known novel, They Had to See Paris (1926), about the uncomfortable visit to Paris of a midwestern American couple. It was subsequently made into the first talking picture starring Will Rogers. Rogers and Croy became collaborators, and Croy eventually wrote the screenplays for half of the Rogers' films. He continued to write novels, screenplays, and biographies for the remainder of his long career.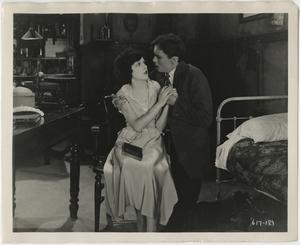 View slide show

X

Creator: Unidentified photographer

Title: Photograph of May McAvoy and Glenn Hunter in West of the Water Tower by Paramount Pictures

Description: Mounted on linen

Medium: Gelatin silver print

Dimensions: 8 x 10

Material Type: Photographs

ADA Caption: Photograph of May McAvoy and Glenn Hunter in "West of the Water Tower" by Paramount Pictures

Curatorial Department: Film Collection

Collection Name: Film Stills Collection

Stack Location: Folder "West of the Water Tower"

Copyright Notices: Some of the documents shown here are subject to U. S. copyright law. It is the user's sole responsibility to contact the copyright holder and secure any necessary copyright permission to publish documents, texts, and images from any holders of rights in these materials. As the owner of the physical object (not the underlying copyright), the Ransom Center requires that you also contact us if you wish to reproduce an image shown here in a print publication or electronically.

Every effort has been made to trace copyright ownership and to obtain permission for reproduction. If you believe you are the copyright owner of an item on this site, and we have not requested your permission, please contact us.

X
A publicity still for the film West of the Water Tower (1923)
Croy's novel, a drama set in the fictional town of Junction City, was a thinly veiled critique of his own hometown, Marysville, Missouri. He published it anonymously because its serious tone so conflicted with his well-known light-hearted writings about midwestern life. The novel, and the ensuing film adaptation, concerns a couple who elope in the face of their disapproving families, and subsequently become the subject of scandal when they have a child and the marriage certificate cannot be found.