SIGNATURES
Identified individuals are represented by a biographical sketch, a list of connections to other signatures, and, in most cases, an artifact from the Ransom Centers collections. Help us identify more signatures by submitting your suggested identification.
THE DOOR

Location on door: front, panel 2
The novelist and New York native Elisabeth Sanxay Holding (1889-1955) published more than twenty-five novels and many short stories over the course of her long career. In the 1920s she published several romance novels, but she was best known for the hardboiled detective fiction she wrote from the 1930s onward. In this genre, she was highly regarded by her peers: Raymond Chandler wrote, "For my money she's the top suspense writer of them all. She doesn't pour it on and make you feel irritated. Her characters are wonderful; and she has a sort of inner calm which I find very attractive." Holding was married to a British diplomat, George Holding, and spent much of her adult life abroad, returning to New York in her later years, when she resided in Greenwich Village.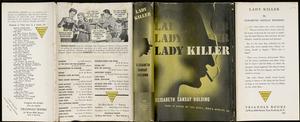 View larger image

X

Creator: Holding, Elisabeth Sanxay, 1889-1955

Title: Dust jacket for Lady Killer

Description: Dust jacket

Imprint: New York: Triangle Books, 1943

Item Date: 1943

Material Type: Monographs

ADA Caption: Color lobby card for The Reckless Moment

Curatorial Department: Book Collection

Collection Name: Rare Books Collection

Stack Location: PZ 3 H6947 Lad2

Copyright Notices: Some of the documents shown here are subject to U. S. copyright law. It is the user's sole responsibility to contact the copyright holder and secure any necessary copyright permission to publish documents, texts, and images from any holders of rights in these materials. As the owner of the physical object (not the underlying copyright), the Ransom Center requires that you also contact us if you wish to reproduce an image shown here in a print publication or electronically.

Every effort has been made to trace copyright ownership and to obtain permission for reproduction. If you believe you are the copyright owner of an item on this site, and we have not requested your permission, please contact us.

X
The dust jacket for Elisabeth Sanxay Holding's Lady Killer (New York: Triangle Books, 1943)