SIGNATURES
Identified individuals are represented by a biographical sketch, a list of connections to other signatures, and, in most cases, an artifact from the Ransom Centers collections. Help us identify more signatures by submitting your suggested identification.
THE DOOR

Location on door: front, panel 2
Charles Boni (1894-1969) was the younger brother of Albert Boni; the biographies of these two door-singers are closely entwined. Born and raised in Newark, New Jersey, Charles attended Harvard College. While still in school, he co-founded with his brother the Washington Square Bookshop in 1913. The bookshop was just next door to the Liberal Club, and became a center for Bohemian activities in the Village; among other things, the shop published Alred Kreymborg's little magazine The Glebe. In 1915, Charles graduated from college and the brothers sold the shop to Frank Shay in order to go into publishing full time. With his brother and partner Harry Scherman, Charles helped start the Little Leather Library, a publishing venture that succeeded in targeting a market for series of classic works of literature, and was the predecessor to the Book-of-the-Month Club. In 1923, he joined his brother to found the publishing house of Albert & Charles Boni, which published many major modernist writers and remained in business until 1939. In 1928 the brothers undertook an experiment called Charles Boni Paper Books, a paperback book club by mail subscription. Unfortunately, the stock market crash in 1929 hindered their effort, and the experiment failed after just a few years. Later in life, Charles Boni started an art exhibition company, began another pubishing company, Boni & Gaer, and in his retirement became interested in developing ways to use new computer technology in medical applications.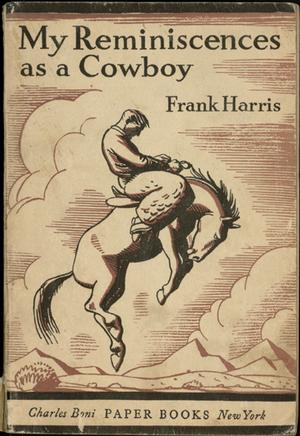 View page turner

X

Creator: Harris, Frank, 1855-1931

Title: My Reminiscences as a Cowboy

Imprint: New York: Charles Boni Paper Books, 1930

Item Date: 1930

Material Type: Monographs

Curatorial Department: Book Collection

Collection Name: Rare Books Collection

Stack Location: TEMP H241myr 1930

Copyright Notices: Some of the documents shown here are subject to U. S. copyright law. It is the user's sole responsibility to contact the copyright holder and secure any necessary copyright permission to publish documents, texts, and images from any holders of rights in these materials. As the owner of the physical object (not the underlying copyright), the Ransom Center requires that you also contact us if you wish to reproduce an image shown here in a print publication or electronically.

Every effort has been made to trace copyright ownership and to obtain permission for reproduction. If you believe you are the copyright owner of an item on this site, and we have not requested your permission, please contact us.

X
The cover and opening pages of Frank Harris's My Reminiscences as a Cowboy (New York: Charles Boni Paper Books, 1930)

This volume reveals the aesthetic of the Charles Boni Paper Books series, which had an elegant look and feel and were often illustrated by major graphic artists.