SIGNATURES
Identified individuals are represented by a biographical sketch, a list of connections to other signatures, and, in most cases, an artifact from the Ransom Centers collections. Help us identify more signatures by submitting your suggested identification.
THE DOOR

Location on door: front, panel 1
The playwright George Cram Cook (1873-1924) is best remembered for his part in the founding of the Provincetown Players. Born to a prominent family in Davenport, Iowa and educated at the University of Iowa and Harvard, he was active in literary circles in Davenport and Chicago into the 1910s, writing novels and working as a book reviewer and columnist at the Chicago Evening Post under the direction of his good friend Floyd Dell. He founded the socialist Monist Society in Davenport, where he met Susan Glaspell. They married in 1913 and moved to Greenwich Village, spending their summers in Provincetown, Massachussetts. In 1915, they co-wrote the play Suppressed Desires, but were unable to place it with a theater due to its unusual form and content. It was performed in the parlor of writers Neith Boyce and Hutchins Hapgood by amateur performers, and then, in the summer of 1915, performed again on Mary Heaton Vorse's wharf in Provincetown; at this time, the Provincetown Players were born. Cook spurred the group's early experimental performances, convinced that the theater was a place where American literature could be transformed. Known for his charisma, idealism, and ability to organize those around him into action, Cook was arguably the most important engine behind the Players' success, and though he wrote several more plays, his key contribution was his vision for the group and his leadership. When the Players became very successful in the early 1920s, Cook believed that the group had failed in its mission. The players dissolved in 1922 and Cook and Glaspell moved to Greece, where Cook fulfilled a longstanding desire to live as a shepherd-poet in the hills. He died suddenly, of a disease contracted from his dog, in 1924.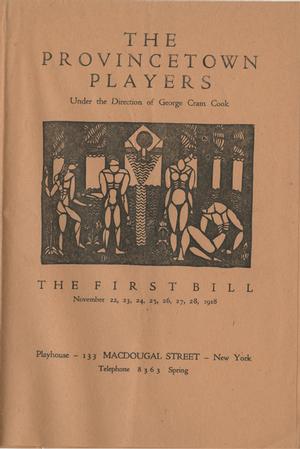 View page turner

X

Title: The Provincetown Players, The First Bill of the Fifth Season, 1918-1919

Item Date: 1918

Material Type: Playbills

ADA Caption: The Provincetown Players, The First Bill of the Fifth Season, 1918-1919

Curatorial Department: Performing Arts Collection

Collection Name: Playbills and Programs Collection: New York City Theaters

Stack Location: New York City, 1918

Copyright Notices: Some of the documents shown here are subject to U. S. copyright law. It is the user's sole responsibility to contact the copyright holder and secure any necessary copyright permission to publish documents, texts, and images from any holders of rights in these materials. As the owner of the physical object (not the underlying copyright), the Ransom Center requires that you also contact us if you wish to reproduce an image shown here in a print publication or electronically.

Every effort has been made to trace copyright ownership and to obtain permission for reproduction. If you believe you are the copyright owner of an item on this site, and we have not requested your permission, please contact us.

X
A playbill for the Provincetown Players' Fifth Season, 1918.
This bill for plays by Edna St, Vincent Millay, Eugene O'Neill, and Florence Kiper Frank credits Cook as the Players' general director.