SIGNATURES
Identified individuals are represented by a biographical sketch, a list of connections to other signatures, and, in most cases, an artifact from the Ransom Centers collections. Help us identify more signatures by submitting your suggested identification.
THE DOOR

Location on door: front, panel 2
The prominent playwright, director, actor, and screenwriter Harry Wagstaff Gribble (1896-1981) was born in the English county of Kent to a family who frowned upon the theater. Throughout his first job as an accountant, and a brief stint at Cambridge, Gribble nursed secret ambitions for the stage, which he finally pursued by joining a Liverpool repertoire company. After touring Africa with a fellow actor in 1913 and 1914, and being rejected from the army on his return home, Gribble moved to New York City in December of 1914. Though his first few months there were rocky, he eventually found a job touring with the actress Mrs. Patrick Campbell in Pygmalion and The Second Mrs. Tanqueray. The difficulties of dealing with a demanding performer furnished material for his first full-length play several years later, The Outrageous Mrs. Palmer (1920). But Gribble was by no means idle in the intervening years: his enlistment with the 27th Division of the U.S. Army, oddly enough, created an outlet for his considerable talents. After just nine months in camp he directed fellow soldiers and starred in the Broadway musical production You Know Me, Al! (1918). Known as the Army's most successful play, it grossed $50,000 in four weeks. Gribble subsequently enjoyed a long Broadway career, writing several of his own plays and directing close to thirty. His skills translated well into film; his screenplay credits include Our Betters (1933), Stella Dallas (1937), and A Bill of Divorcement (1932), Katherine Hepburn's screen debut. Gribble's play All Gummed Up is included in Frank Shay's Twenty Contemporary One-Act Plays (1922), alongside works by Floyd Dell, Christopher Morley, Susan Glaspell and George Cram Cook, Eugene O'Neill, and Lawrence Lagner.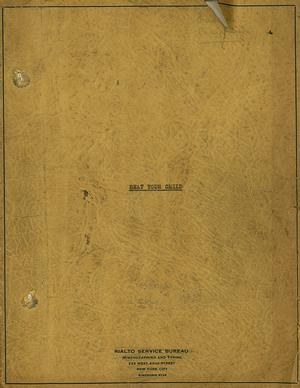 View page turner

X

Creator: Gribble, Harry Wagstaff, 1896-1981

Title: Carbon typescript of Beat Your Child

Description: Front cover and pages 1-18

Item Date: 1928

Material Type: Manuscript

ADA Caption: Carbon typescript of Beat Your Child

Curatorial Department: Manuscripts Collection

Collection Name: Christopher Morley Collection

Stack Location: Miscellaneous: Gribble, Harry Wagstaff

Copyright Notices: Some of the documents shown here are subject to U. S. copyright law. It is the user's sole responsibility to contact the copyright holder and secure any necessary copyright permission to publish documents, texts, and images from any holders of rights in these materials. As the owner of the physical object (not the underlying copyright), the Ransom Center requires that you also contact us if you wish to reproduce an image shown here in a print publication or electronically.

Every effort has been made to trace copyright ownership and to obtain permission for reproduction. If you believe you are the copyright owner of an item on this site, and we have not requested your permission, please contact us.

X
The cover and opening pages of Harry Wagstaff Gribble's play Beat Your Child, 1928