SIGNATURES
Identified individuals are represented by a biographical sketch, a list of connections to other signatures, and, in most cases, an artifact from the Ransom Centers collections. Help us identify more signatures by submitting your suggested identification.
THE DOOR
Location on door: front, panel 2
The groundbreaking New Zealand novelist Jane Mander is best remembered for her first novel, The Story of a New Zealand River (1920), set in the rural settlement of Pukekaroro where she lived for part of her childhood. Mander worked first as a teacher and then as a journalist and newspaper editor in New Zealand before coming to the United States in 1912 to study journalism at Columbia University. She stayed in New York for many years, writing for magazines and agitating for women's suffrage. During World War I she volunteered for various war assistance organizations and worked for the Red Cross. In 1917 she moved to Greenwich Village, where she became involved in theater, becoming a founding member of the Theatre Guild. The Story of a New Zealand River was well-received by American critics, but met with severe criticism in the traditional literary climate of New Zealand, in part due to its sexual themes. Mander wrote three more novels about New Zealand, none received well in her home country, while living abroad. In 1923 she moved to London and worked as a book editor and London correspondent for New Zealand magazines and continued to write, but none of her other books was as successful as her first. Her 1925 novel, Beseiging City, is based upon her experiences in New York. Mander returned to New Zealand in 1932 and lived there until her death.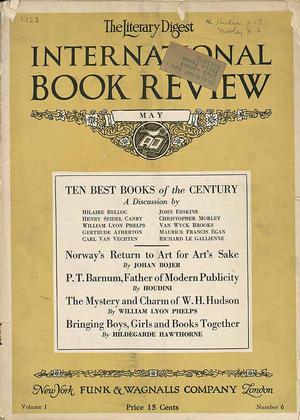 View slide show

X

Creator: Mander, Jane, 1877-1949

Title: "Creative Writing in Australia and New Zealand" in The Literary Digest International Book Review

Imprint: 1.6 (May 1923)

Item Date: 1923

Material Type: Serials

ADA Caption: "Creative Writing in Australia and New Zealand" in The Literary Digest International Book Review

Curatorial Department: Book Collection

Collection Name: Rare Books Collection

Stack Location: q Z 1035 A1 M675 Copy 2

Copyright Notices: Some of the documents shown here are subject to U. S. copyright law. It is the user's sole responsibility to contact the copyright holder and secure any necessary copyright permission to publish documents, texts, and images from any holders of rights in these materials. As the owner of the physical object (not the underlying copyright), the Ransom Center requires that you also contact us if you wish to reproduce an image shown here in a print publication or electronically.

Every effort has been made to trace copyright ownership and to obtain permission for reproduction. If you believe you are the copyright owner of an item on this site, and we have not requested your permission, please contact us.

X
"Creative Writing in Australia and New Zealand" in The Literary Digest International Book Review 1.6 (May 1923)
The opening paragraphs of this article reveal Mander's deep frustration with New Zealand's literary climate, and she dedicates the remainder of the article to the writers of Australia, where she felt there was more promise for the future.