SIGNATURES
Identified individuals are represented by a biographical sketch, a list of connections to other signatures, and, in most cases, an artifact from the Ransom Centers collections. Help us identify more signatures by submitting your suggested identification.
THE DOOR

Location on door: front, panel 1
John Mistletoe lived for many years in the imagination of the writer Christopher Morley. He appears most prominently as the eponymous protagonist of John Mistletoe (1931), Morley's novel-cum-autobiography. But Morley began "quoting" Mistletoe much earlier. His 1918 essay collection Shandygaff begins with an epigraph in the form of Mistletoe's definition of the drink shandygaff (a mix of ale and ginger beer) from his Dictionary of Deplorable Facts (among other things, he states that it is "drunk by the lower classes in England, and by strolling tinkers, low church parsons, newspapermen and journalists, and prizefighters"). Elsewhere in this volume, he cites Mistletoe's unpublished letters. Further quotations of Mistletoe pepper Morley's later works and advertisements for his books, and in 1927, he published a story in the British mystery magazine Argosy titled "The Curious Case of John Mistletoe." Some friends played along and cited Mistletoe as an actual writer, and at times, Mistletoe's name appeared in place of Morley's in the literary gossip columns.
X
X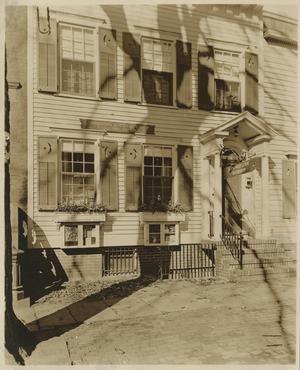 View larger image

X

Creator: Unidentified photographer

Title: Photograph of the John Mistletoe Bookshop

Item Date: Undated

Medium: Gelatin silver print

Dimensions: 25 cm x 20.1 cm

Material Type: Photographs

ADA Caption: Photograph of The John Mistletoe Bookshop

Curatorial Department: Photography Collection

Collection Name: Christopher Morley Literary File Photography Collection

Stack Location: Box 11, Folder P1110

Copyright Notices: Some of the documents shown here are subject to U. S. copyright law. It is the user's sole responsibility to contact the copyright holder and secure any necessary copyright permission to publish documents, texts, and images from any holders of rights in these materials. As the owner of the physical object (not the underlying copyright), the Ransom Center requires that you also contact us if you wish to reproduce an image shown here in a print publication or electronically.

Every effort has been made to trace copyright ownership and to obtain permission for reproduction. If you believe you are the copyright owner of an item on this site, and we have not requested your permission, please contact us.

X
A photograph of the John Mistletoe Bookshop, Albany, New York, undated
Christopher Morley's biographer Helen McKelvey Oakley writes that Morley was "delighted" when Eleanore Foote decided to name her Albany bookstore after his alter ego. It operated from 1934 until at least the late 1960s.