SIGNATURES
Identified individuals are represented by a biographical sketch, a list of connections to other signatures, and, in most cases, an artifact from the Ransom Centers collections. Help us identify more signatures by submitting your suggested identification.
THE DOOR

Location on door: front, panel 3
In the 1930s and 1940s, Preston Lockwood (1891-1951) was an attorney and ran the Brewster Aeronautical Corporation. But earlier in his career he worked as a newspaper journalist and landed what the New York Times proclaimed was "Henry James's First Interview." The March 1915 interview was in fact the third and last of the only three interviews the eminent writer gave during his lifetime. It was conducted in England, where the St. Louis-born Lockwood was a Rhodes Scholar. During the war, Lockwood served first in the American Field Service, then the French Army, and finally the U. S. Army. Upon returning to the United States, Lockwood settled in New York where during the early 1920s he taught journalism at Columbia University before embarking on a career in law.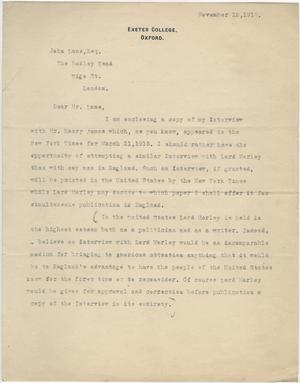 View slide show

X

Creator: Lockwood, Preston, 1891-1951

Title: Three letters to John Lane

Item Date: 12 November 1915; 18 November 1915; 10 December 1915

Material Type: Manuscript

Curatorial Department: Manuscripts Collection

Collection Name: John Lane Company Records

Stack Location: Box 28, Folder 3

Copyright Notices: Some of the documents shown here are subject to U. S. copyright law. It is the user's sole responsibility to contact the copyright holder and secure any necessary copyright permission to publish documents, texts, and images from any holders of rights in these materials. As the owner of the physical object (not the underlying copyright), the Ransom Center requires that you also contact us if you wish to reproduce an image shown here in a print publication or electronically.

Every effort has been made to trace copyright ownership and to obtain permission for reproduction. If you believe you are the copyright owner of an item on this site, and we have not requested your permission, please contact us.

X
A Letter from Preston Lockwood to John Lane, November 12, 1915
In this letter from Lockwood to publisher John Lane of The Bodley Head, the young journalist expresses his desire to build on the success of his piece on Henry James and interview the English politician and writer, John Morley (1st Viscount Morley of Blackburn). The interview never came to pass. Additional letters in the John Lane Company Records reveal that Morley declined to be interviewed and by mid-December Lockwood had temporarily suspended his journalistic pursuits to rejoin the Ambulance Corps.