SIGNATURES
Identified individuals are represented by a biographical sketch, a list of connections to other signatures, and, in most cases, an artifact from the Ransom Centers collections. Help us identify more signatures by submitting your suggested identification.
THE DOOR

Location on door: front, panel 3
Robert Nichols (1893-1944) was an English poet-soldier whose verse captured the devastation of the World War I battlefield. Nichols's studies at Oxford University were interrupted by the outbreak of war in 1914 and he soon became a second lieutenant in the Royal Field Artillery. Though shell shock and poor health led him to be released from service in France after only a year, the war pervades his first two collections of verse, Invocation (1915) and Ardours and Endurances (1917), both of which were commercial successes. In a June 1918 review for the Bookman, Jessie B. Rittenhouse wrote, "Of all the books through which the soldier has spoken in this war, Ardours and Endurances, by Robert Nichols, is the highest and finest utterance." During 1918 and 1919, Nichols toured the United States, giving lectures and readings sponsored by the Ministry of Information. In 1921, he took a teaching position in Japan, and then in 1924 moved to Hollywood, where he became involved in film before returning to Europe in 1926. Following his initial wartime success, Nichols penned an additional volume of poetry and works of fiction, a satire, and several plays. However, over time, his reputation was eclipsed by those of his friends and fellow World War I poets Siegfried Sassoon and Robert Graves.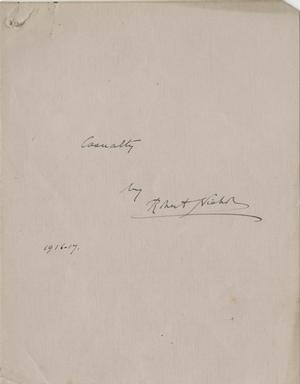 View slide show

X

Creator: Nichols, Robert, 1893-1944

Title: Early and late manuscript drafts of "Casualty"

Item Date: 1916-1917, undated

Material Type: Manuscript

ADA Caption: Early and late manuscript drafts of "Casualty"

Curatorial Department: Manuscripts Collection

Collection Name: Robert Malise Bowyer Nichols Collection

Stack Location: Works: Unidentified-C

Copyright Clearance: Grateful acknowledgement is made to the Robert Nichols Estate for permission to display this artifact

Copyright Notices: Some of the documents shown here are subject to U. S. copyright law. It is the user's sole responsibility to contact the copyright holder and secure any necessary copyright permission to publish documents, texts, and images from any holders of rights in these materials. As the owner of the physical object (not the underlying copyright), the Ransom Center requires that you also contact us if you wish to reproduce an image shown here in a print publication or electronically.

Every effort has been made to trace copyright ownership and to obtain permission for reproduction. If you believe you are the copyright owner of an item on this site, and we have not requested your permission, please contact us.

X
Early and late manuscript drafts of Robert Nichols's poem "Casualty," 1916-1917 and undated
"Casualty" is the first section of Nichols's poetic sequence "Yesterday," and is represented here by early and late manuscript drafts. "Yesterday" was dedicated to Siegfried Sassoon and collected in Nichols's third volume of verse, Aurelia & Other Poems (1920). In the first draft, the dying soldier's breath is described as being "drawn with the sound of a slow-filling squirt," whereas in the second, the line becomes even more graphic--"drawn with the suck of a slow-filling squirt."