SIGNATURES
Identified individuals are represented by a biographical sketch, a list of connections to other signatures, and, in most cases, an artifact from the Ransom Centers collections. Help us identify more signatures by submitting your suggested identification.
THE DOOR
Location on door: front, panel 3
A mid-westerner by birth, Mary Hunter Austin (1868-1934) wrote extensively about New Mexico and California. Her best-known works include her sketches about the California desert landscape, The Land of Little Rain (1903) and her many writings on Native American literature, culture, and mysticism. Active in Los Angeles literary circles in her early career, Austin travelled between the artists'communities in Carmel, California and New York City in the 1910s and 1920s, where she cut a commanding figure. In Carmel, she helped found the experimental Forest Theater in 1910. In Greenwich Village, she was a regular visitor to Mabel Dodge Luhan's famous literary salon, and followed Dodge and many other artists to New Mexico in the 1920s, settling in Santa Fe permanently in 1924.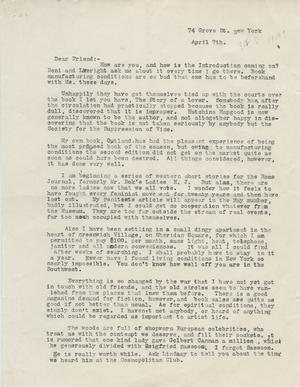 View slide show

X

Creator: Austin, Mary, 1868-1934

Title: Typed letter to Alice Corbin Henderson

Item Date: 7 April 1920

Material Type: Manuscript

ADA Caption: Typed letter from Mary Austin to Alice Corbin Henderson

Curatorial Department: Manuscripts Collection

Collection Name: Alice Corbin Henderson Collection

Stack Location: Box 1, Folder 6

Copyright Notices: Some of the documents shown here are subject to U. S. copyright law. It is the user's sole responsibility to contact the copyright holder and secure any necessary copyright permission to publish documents, texts, and images from any holders of rights in these materials. As the owner of the physical object (not the underlying copyright), the Ransom Center requires that you also contact us if you wish to reproduce an image shown here in a print publication or electronically.

Every effort has been made to trace copyright ownership and to obtain permission for reproduction. If you believe you are the copyright owner of an item on this site, and we have not requested your permission, please contact us.

X
A letter from Mary Austin to Alice Corbin Henderson, 7 April [1920]
This letter is packed with Austin's observations concerning major issues of the moment: censorship, suffrage, and post-war emigration from Europe. It includes glimpses into many aspects of Austin's life, including her thoughts on the cost of living in Greenwich Village, the Poetry Society, poet Vachel Lindsay, and her passionate devotion to Southwestern culture and art, which was experiencing a burst of popularity in the New York art scene. Poet and editor Alice Corbin Henderson had moved to Santa Fe after being diagnosed with tuberculosis in 1917; her archive resides at the Ransom Center.