SIGNATURES
Identified individuals are represented by a biographical sketch, a list of connections to other signatures, and, in most cases, an artifact from the Ransom Centers collections. Help us identify more signatures by submitting your suggested identification.
THE DOOR

Location on door: front, panel 2
"Bardar" was the penname of Samuel bar Hammurabi Yaqub (dates unknown), a Persian-Assyrian poet and typesetter originally from the village of Širābād, near Urmia, in northwestern Iran. He was born in the late nineteenth century and came to the United States at the age of fifteen.
Bardar was also known as Samuel A. Jacobs, and worked in the publishing industry. Most notably, he was E. E. Cummings' favorite typesetter for many years; in a 1925 letter to Horace Livewright, Cummings said, "Mr. Jacobs, as you may or may not know, is the only living person (literally) who understands just what I require in the way of typography." Bar Dar, as Cummings addressed him in correspondence, set the type for several of Cummings' books in the 1920s.
(Thanks are due to Eden Naby of Harvard University, who provided the identification, and Robin Dougherty of the University of Texas Libraries, who provided supporting information. See also the entry for Jacobs in the online Encyclopaedia Iranica.)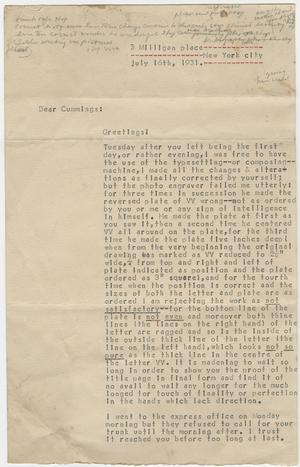 View slide show

X

Creator: Jacobs, Sam A.; E. E. Cummings

 

Title: A letter from Bardar to E. E. Cummings, July 16th, 1931, and preliminary pages from Cummings' VV (New York : H. Liveright, 1931)

Item Date: 1931

Material Type: Manuscript

Curatorial Department: Manuscripts Collection

Collection Name: E. E. (Edward Estlin) Cummings Collection

Copyright Notices: Some of the documents shown here are subject to U. S. copyright law. It is the user's sole responsibility to contact the copyright holder and secure any necessary copyright permission to publish documents, texts, and images from any holders of rights in these materials. As the owner of the physical object (not the underlying copyright), the Ransom Center requires that you also contact us if you wish to reproduce an image shown here in a print publication or electronically.

Every effort has been made to trace copyright ownership and to obtain permission for reproduction. If you believe you are the copyright owner of an item on this site, and we have not requested your permission, please contact us.

X
A letter from Bardar to E. E. Cummings, July 16th, 1931, and preliminary pages from Cummings' VV (New York : H. Liveright, 1931)
In this letter to Cummings, Bardar humorously discussed the challenges of achieving the "much longed for touch of finality or perfection" in print.  The letter is followed by the limitation page, title page, verso of the title page ("Typography by S. A. Jacobs), and the first page of the poem from the book referenced in Bardar's letter, VV by Cummings.