SIGNATURES
Identified individuals are represented by a biographical sketch, a list of connections to other signatures, and, in most cases, an artifact from the Ransom Centers collections. Help us identify more signatures by submitting your suggested identification.
THE DOOR

Location on door: front, panel 2
Joseph Lewis French (1858-1936) was a prolific writer and anthologist known for his popular themed collections, such as Masterpieces of Mystery (1921, 4 vols.) and Great Pirate Stories (1922). French led an active literary life: early in his career he founded two magazines, The New West (circa 1887) and The Wave (circa 1890). He then went on to work for newspapers across the country and contribute articles and poetry to periodicals. However, despite publishing over twenty-five books between 1918 and his death in 1936, French struggled financially. Desperate for work in 1927, French was urged by the tabloid daily New York Graphic to write an article on his life's story, which the scandal sheet's editors titled "I'm Starving--Yet I'm in Who's Who as the Author of 27 Famous Books."
X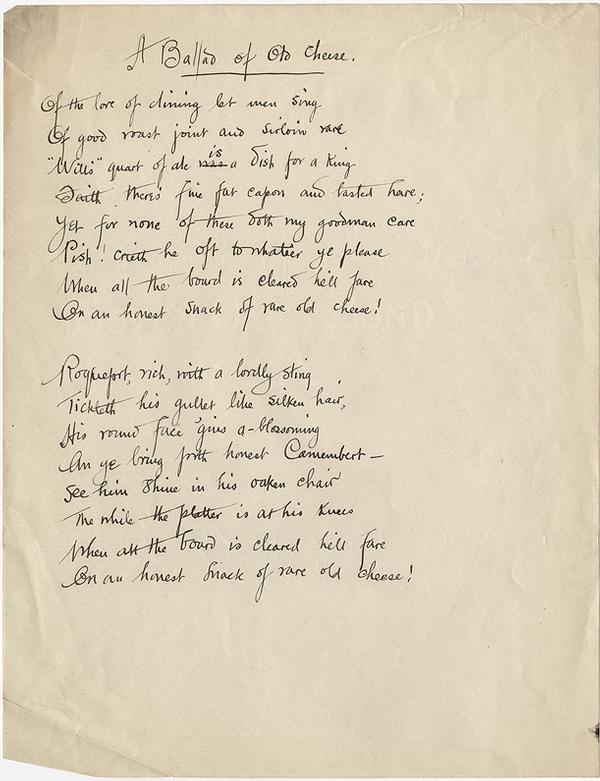 X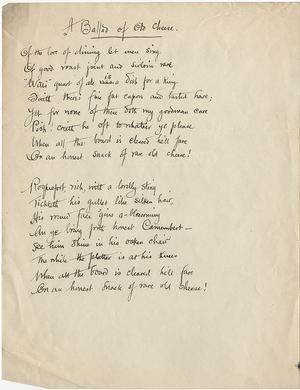 View larger image

X

Creator: French, Joseph Lewis, 1858-1936

Title: "A Ballad of Old Cheese"

Description: Signed, autograph manuscript

Item Date: Undated

Material Type: Manuscript

ADA Caption: "A Ballad of Old Cheese"

Curatorial Department: Manuscripts Collection

Collection Name: Christopher Morley Collection

Stack Location: Miscellaneous: French, Joseph Lewis

Copyright Notices: Some of the documents shown here are subject to U. S. copyright law. It is the user's sole responsibility to contact the copyright holder and secure any necessary copyright permission to publish documents, texts, and images from any holders of rights in these materials. As the owner of the physical object (not the underlying copyright), the Ransom Center requires that you also contact us if you wish to reproduce an image shown here in a print publication or electronically.

Every effort has been made to trace copyright ownership and to obtain permission for reproduction. If you believe you are the copyright owner of an item on this site, and we have not requested your permission, please contact us.

X
Joseph Lewis French's "A Ballad of Old Cheese," undated
French's lighter side is on display in this undated poem manuscript. The poem is written as a ballade, a verse form associated with fourteenth and fifteenth century French literature and consisting of three stanzas and an envoi, wherein the last line of each stanza is a refrain.